Soccer: Generals set for match with Marist today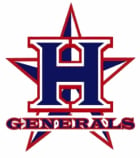 A Cinderella season continues for the Heritage girls soccer team. 
The undefeated Lady Generals advanced to the Final Four in the GHSA Class AAAA state playoffs after handing the host Cairo Syrupmakers its first loss of the season on Friday, May 10.
The Navy-and-Red, who will host perennial powerhouse Marist today at 5:30 p.m., won the match, 5-4, in overtime on penalty kicks. 
Heritage head coach Stacy Dunfee said she couldn't be more proud of her  team although she is excited and nervous about the matchup with Marist.
"I'm excited because this is the first time we've been this far in school history," she said. "I know it's a little nerve wracking to think about facing Marist in the semis because I know they're the best opponent we've seen. I hope  the girls aren't satisfied with the Final Four.
Dunfee said her team would have to play the best game of their lives against Marist, who is also undefeated, following hope they'll be ready to play "the best game of their lives," following an emotionally game on Friday.
"I think that game brought flashbacks where they got put out in the Elite Eight last year (in the second round of shootouts to Columbus)," she said. "We  knew we had it won with Cairo. We just couldn't finish it. We were clearly the  better team, and then they scored with under 2:00 to play. They were jumping up  and down when they scored and our girls were crying even before the shoot out.  They were disappointed they couldn't put the game away." 
After a scoreless first half with the help of a tough Lady Generals  defense, freshman forward Taylor Beasley was fouled. That resulted in a penalty  kick by junior forward Courtney Bell.
Cairo refused to lose, scoring with 1:58 to play, which ended the game in  a tie at the end of regulation.
Junior goalie Shelby Mullinax led off the shootout for the Lady Generals  with a smooth, hard kick to the back of the net.
Cairo's first shooter did the same.
Then senior center-midfielder Katelyn Beekman scored the Generals' second  goal.
Cairo's second shooter wasn't as fortunate. Her shot rebounded off the  upright, which ultimately would cost them the game. 
Courtney Bell, Blair Harden and Kansas Carpenter scored the remaining  points for Heritage.