Signing Day: Pepperell's Dodd signs with LSU, Ridgeland's Bell picks Ohio State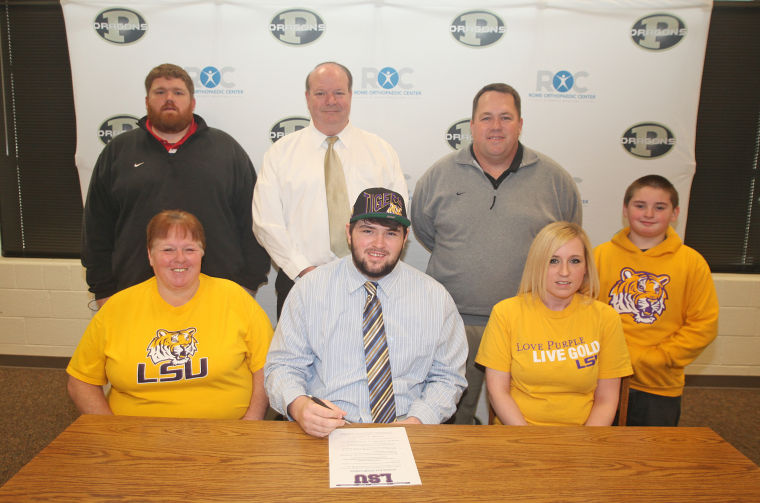 After months of narrowing down their choices, the big moment is at hand: It's time for athletes, locally and nationally, to give their "final answer."
National Signing Day has arrived.
Finally, all the anticipation and speculation will be replaced by celebration, as high school standouts sign letters of intent with the schools of their choosing. 
Pepperell:
Andy Dodd - LSU
Ben Davenport - Carson-Newman
David Boaz - Berry College
Allen Chambers - Berry College
Darlington: 
Brad Butler - Wofford College
Ridgeland:
Von Bell - Ohio State
Darrell Bridges - Presbyterian College
Gannon Hampton - Carson Newman
The Ridgeland High School football program has sent several players to SEC and Big 12 programs in the past few seasons. 
On Wednesday, they added the Big 10 to that impressive list as All-American and five-star senior safety Vonn Bell announced his decision to sign with head coach Urban Meyer and the Ohio State Buckeyes during a press conference at Ridgeland. 
The press conference was attended by numerous media outlets in the Tri-State area, and was also broadcast on ESPNU as part of its full-day National Signing Day coverage.
Today is the first day that high school senior football players can officially sign their college letters of intent.
The choosing of Ohio State ended nearly a year's worth of speculation over Bell's decision. He had received more than 25 football scholarship offers since the University of Georgia made him his first offer on Jan. 7 of last year. 
Bell narrowed his list of choices to seven schools over the summer, and later whittled that list down to three: Alabama, Ohio State, and Tennessee.
All three schools pushed hard to win Bell's services in the final month. Bell took official visits to all three schools in January and coaches visited Bell at home and at Ridgeland in the final weeks before the announcement. 
Fellow seniors Gannon Hampton and Darrell Bridges joined Bell on stage for the conference in the school's auditorium, along with Bell's family and Ridgeland head coach Mark Mariakis. 
All three players later joined their families as they signed their letters of intent in front of the student body in the school's gym. Hampton chose to attend Division II powerhouse Carson-Newman, while Bridges will play next year for Big South member Presbyterian College in South Carolina.
All three were first team All-State selections this past fall as they helped lead the Panthers to the Class AAAA state championship game, and Mariakis announced that all three had received full athletic scholarships to the schools of their choice.