Shrinking number of sports officials is growing concern for area associations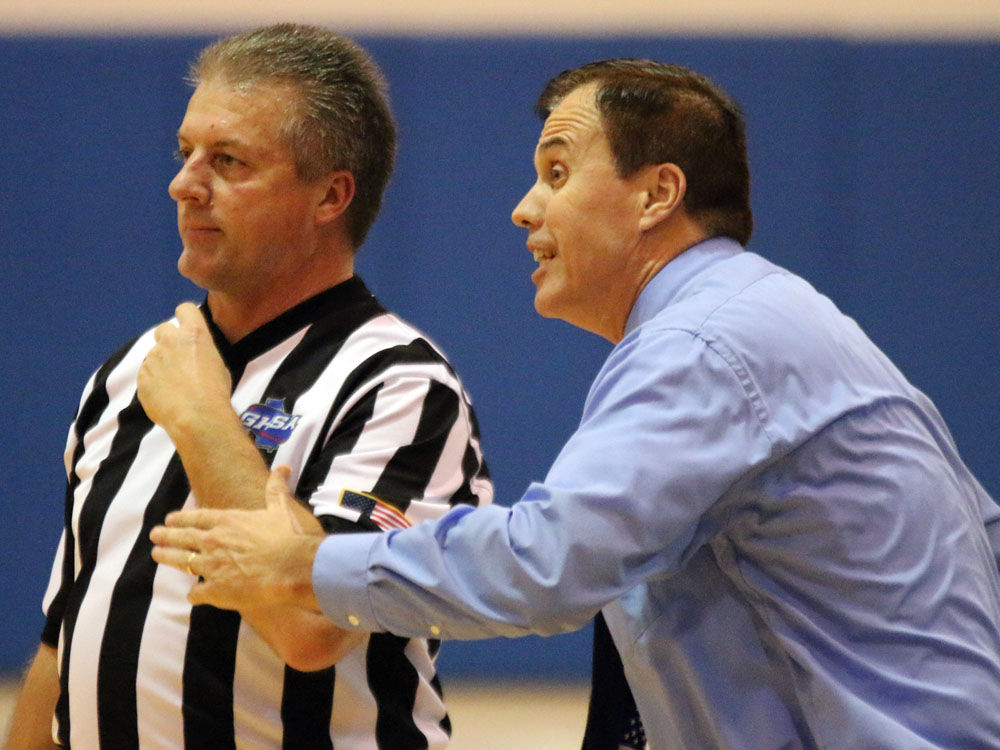 No matter the sport, the need is always there for players, coaches and officials. However, a recent trend is leading one of those groups to worry about how they can continue to support the other two.
It is a trend that hasn't yet led to drastic measures by area official organizations, but may end up seriously affecting the scheduling and officiating of prep games in the not too distant future.
The number of officials for all sports has declined in and around Floyd County in the last few years. Groups like the Northwest Georgia Football and Rome Baseball officials associations have seen a lack of younger people committing to become stewards of rules and fair play.
"The reality is that very few people know the need for officials," said Greg Norton, the booking secretary for the NWGFOA. "Part of that is us and not promoting ourselves, and part of that is on the GHSA for not helping us to promote the fact that there's a need for officials around the state."
Norton's group assigns football officials to every school in the area with the exception of Pepperell. With 110 officials in the organization, the average age is about 53 years old. And while younger officials join up every year, some of them quit after their first year.
Norton believes there are a number of reasons for that, including that most new officials are unaware of what to expect.
But he does think there's a stigma that goes with the job, and that comes directly from fans' interactions with officials.
Lyndon Huckaby shares Norton's point of view. Huckaby is the lead official for the Rome baseball, softball, volleyball and swimming associations and is convinced the action of fans is the main culprit, especially in the last decade.
"We have had some new guys that don't even make it through the first year," Huckaby said. "Some of them don't even make it through two weeks, because they start to take it personal.
"They don't want to be hollered at."
In the Rome Baseball officials association, only 17 percent of the umpires are under the age of 40, and Huckaby sees people quitting every year. As of now, he'll enter this softball season with three less umpires and he'll have two less volleyball officials when this season starts in August.
"Part of it is this bit of entitlement some of the fans have grown to possess," Huckaby said. "And part of that comes from the travel ball a lot of the players are in now. The parents think the rules there are the same as in high school, but it's not."
Model boys' basketball coach Jacob Travis said he has been aware of greater tension at games when it comes to the fans and officials, noting that the atmosphere is different from when he began playing.
"I think in the old days you were able to leave whatever you said on the floor, and that's where things stayed," Travis said. "It feels like we've gotten to a place where it's beyond that floor. It's taken to a level sometimes to where it is unfair."
Darlington football coach Tommy Atha knows that while he cannot control the fans, he can set a standard for fans and players by not showing disrespect to officials during games. While serving on a coach's panel the last few years, Atha said he's heard officials give their opinions and he's found the experiences to be a great opportunity.
He also knows the risk if the current decline in the number of officials continues.
Norton said his group had a situation last year that almost led to them having to request schools move football games to either Thursday or Saturday in order to have enough officials available.
That's the biggest concern for coaches like Travis and Atha. Whether it's moving a game to a different day or having to play at an irregular time, no coach wants outside forces affecting the game.
"The concern becomes first, are the officials going to be spread too thin, and second, what are the ramifications," Atha said. "Do Friday nights become Thursday nights or Saturday nights depending on whether you can get enough officials? It's certainly a concern."
The new school year and sports seasons start in August, and Huckaby and Norton have some new officials they hope can begin to build up the future of the associations. But if they want those new members to stay, then something must change.
"For some, it is second nature to yell," Norton said. "And once they've paid their money, they can yell and scream as much as they want. And that is absolutely wrong."
Huckaby reminds fans to heed the sportsmanship statement that is meant to be read before every GHSA-sanctioned competition or event. The 80-word announcement urges spectators to refrain from "profanity, degrading remarks, and intimidating actions directed at officials or competitors."
"All that needs to be done is just listen to the sportsmanship announcement before every game," Huckaby said. "Come cheer for your kid. You are not there to berate the other team or the officials or anyone else."