SATURDAY'S PREP ROUNDUP: Darlington boys earn 1st lacrosse victory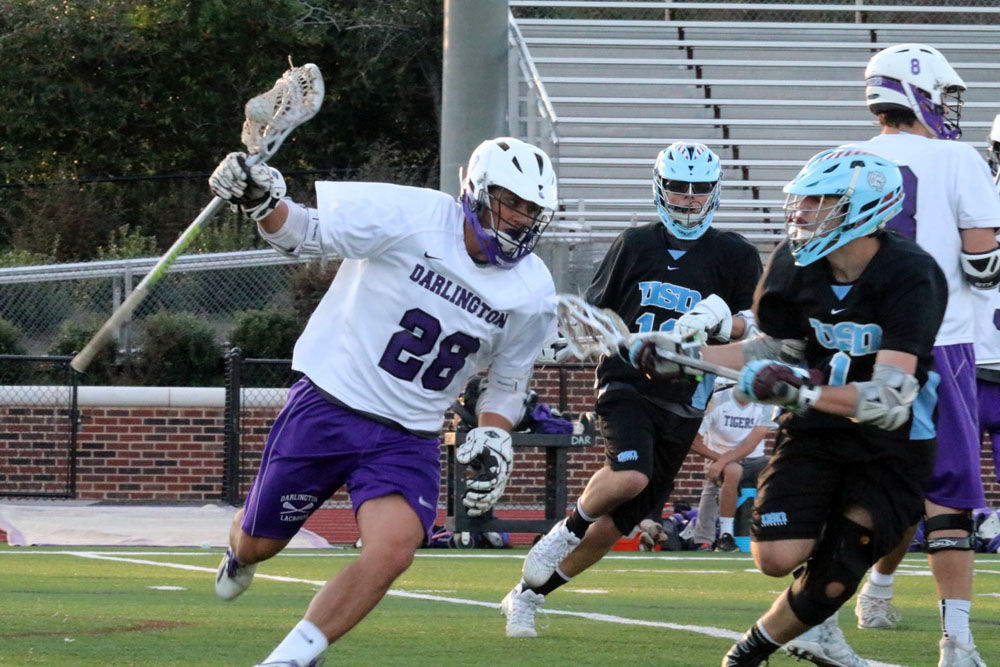 Blake Lowenberg and Pierce Monroe each had three goals and one assist to lift the Darlington boys' lacrosse team to a 9-7 win Saturday at home against University School of Nashville.
The win was the first for the Tigers this season.
Also for Darlington (1-4), Frank Manning had two goals, Chase Pittman had one goal, Cooper Brock had two assists, and Skyler Sledge had an assist.
Goalkeeper William Groover had 13 saves and also had one assist. The Tigers will next travel to face East Paulding on Monday.
TRACK: Locals compete at Mohawk-Warrior Invitational
Several area schools converged on Gordon Central High School in Calhoun on Saturday for the annual Mohawk-Warrior Invitational track meet.
Out of a field of 15 teams, Rockmart's girls finished fifth, while Darlington's boys came in sixth in the final standings. Both Pepperell teams were eighth overall, while Rockmart's boys were seventh.
In the girls' events, Rockmart's Cambree Stanley won the 100-meter and 200-meter dash, finishing in 12.21 seconds and 27.08 seconds, respectively. Teammate Miya Christopher took first in the shot put with a distance of 38 feet, one-half inch.
Pepperell's Jesse Burkhalter won the girl's high jump with a leap of 5-02.
For the boys, Jamal Davis completed the Rockmart sweep in the shot put competition with a winning distance of 45-7½, and Zabrion Whatley won the 200-meter dash with a time of 22.82 seconds. Darlington's Elijah Ball took first in the discus after his throw of 128-05.
Pepperell will host the Floyd County Invitational meet Tuesday afternoon in Lindale.
Tough competition pushes Rome athletes
The Rome High track and field team spent part of the weekend facing some quality competition at the New Manchester Invitational in Douglasville.
Out of the 27-team field, Rome's boys finished sixth overall, while the girls' team came in 11th in the final standings. The meet also saw many Rome athletes set personal best performances.
The girls' 4x100-meter relay team of Tacoria Williams, Karley Baker, Zaysha Brown and Jataria Jackson nearly beat the school record with their best time of 49.64 seconds.
The Wolves had 10 top-eight finishes, with Adam Anderson earning first in the high jump by clearing six feet. Montrell Millsap took second in the 300-meter hurdles (39.32) and Shidell Millsap was third in the 100, coming in at 11.08 seconds.
The Lady Wolves finished with seven top-eight finishes, led by Williams' fourth place in the triple jump with a leap of 34 feet, 10½ inches.