Rome senior pitcher Bo Tucker signs with Georgia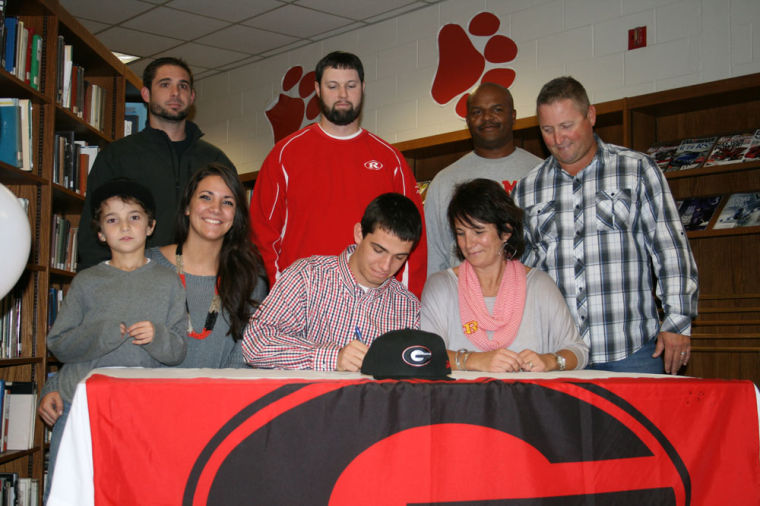 Rome Wolves senior pitcher Bo Tucker will be graduating in the spring and after he turns the tassel on his cap he'll have a new field to call home in Athens.
"It took a lot of hard work to get here, and it's definitely now all paid off," Tucker said.
Tucker signed his letter of intent to attend the University of Georgia on a baseball scholarship Friday afternoon surrounded by family, friends and coaches at Rome High School. Tucker said his decision of where to play came down to the Bulldogs or the Florida Gators.
"I took a visit to both of them, but at Georgia I just felt more comfortable there outside of baseball," Tucker said. "That's really what determined my decision."
Rome head coach Michael Dougherty said that he was thrilled that Tucker will have the opportunity to go play at such a prestigious program.
"Seeing as much work as he's put in, it's nice that he's getting to go off to one of the better schools in the state and the nation," Dougherty said.
Tucker finished his junior season on the mound 2-3, with two saves. He threw 36 strikeouts over the season and allowed only 15 runs and six walks and had a 2.44 ERA.
He worked just as hard at the plate, batting .366 for the season with 30 hits, driving in 18 RBIs and stealing 13 bases. Tucker will begin his final season with the Wolves in February.
Tucker expects that he'll get a good amount of work on the mound for Georgia when he starts his freshman year for the Bulldogs in 2015.
"Maybe not as a weekend starter, but pitching during the week or coming in for relief," he said. "I think I'm ready for it."