REGION ROUNDUP: Coosa VB wins 3rd straight Battle of the Counties title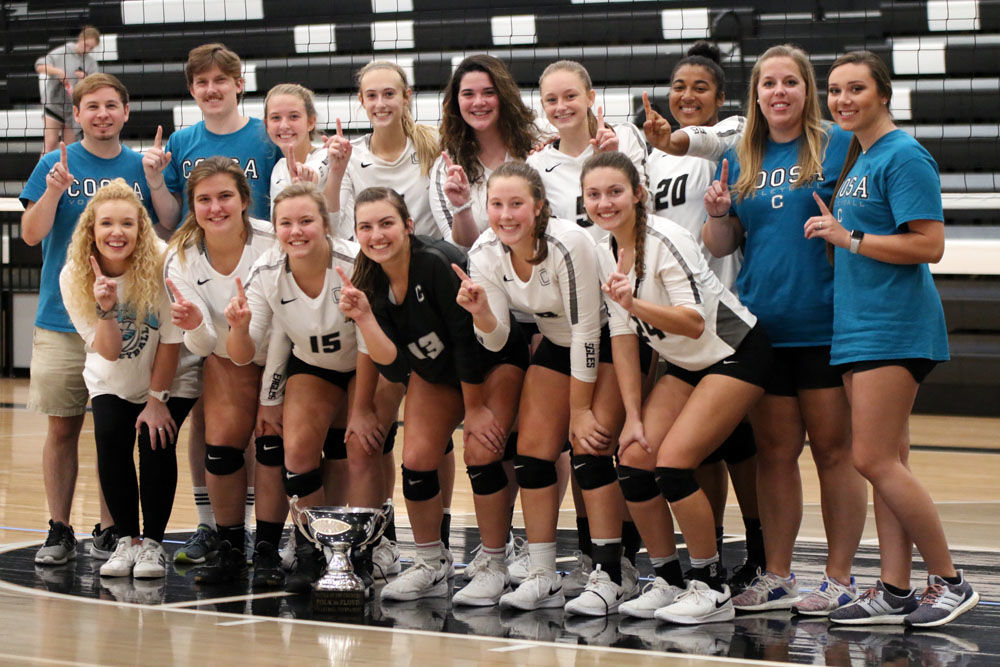 Coosa didn't drop a set through four matches of victories to win its third straight Battle of the Counties tournament, hosted by the Lady Eagles.
Coosa opened defeating Rockmart and Darlington, before capping the day with two victories against Rome High, including a 25-13, 25-16, 25-15 win in the championship match.
"It's huge for our team," Coosa head coach Nic Hann said. "We've been just wanting to find some consistency and today I think we found that. We got in some lulls, and we could've crashed but we didn't."
Kasey Thacker led Coosa (24-7) on the day with 31 kills, six aces, 16 blocks and 17 digs, Jordan Roberts had 21 kills, six aces, seven blocks, 34 digs and one assist, and Gracie Shumate finished with eight kills, seven aces, four blocks, 10 digs and two assists.
Darlington finished play with three wins but didn't advance out of the loser's bracket, and Cedartown won two matches. Model and Pepperell both won one match each, while Rockmart and Armuchee finished 0-2.
The Lady Wolves won their opening two matches against Armuchee and Model, before dropping the two matches to Coosa.
Rome High head coach Alecia Parker said her team had a strong start through their opening matches, but became sluggish in the championship.
"We were moving, talking, diving," Parker said. "Our serving was on point today. They were aggressive at the net at first, but then this last match, they started wanting to tip more instead of being aggressive. You can't tip against an aggressive team."
In the championship match, Kallan Carper had six kills and five assists for Rome (15-10), Katie Beth Davis had four kills, one assist and 16 digs, and Caroline Young had nine assists.
Coosa will travel to face Georgia School for the Deaf on Tuesday for a Region 6-A/AA matchup. Rome will host Carrollton and Cass for two Area 7-5A matchups Tuesday.
CROSS COUNTRY
Armuchee sweeps home meet
Chaney Holder and Chloe Purdy found success on their home turf Saturday as the duo led the Armuchee cross country teams to first-place finishes in the Indians Trail Run.
Holder led a slew of Armuchee runners in the top 10 finishers. Holder finished with a time of 18:17, and was joined by teammates Davis Yeargan, Patrick Dupree, Wes Connely and Jack Rush, who finished in sixth, seventh, eighth and ninth, respectively.
Purdy took first with a time of 21:45, followed by teammate and second-place finisher Kayla Hutcherson with a time of 21:59. Fellow Armuchee runners Blaine Fox, Sadie Medckie and Anna Fitzpatrick took seventh, eighth and ninth places.
Coosa and Pepperell rounded out the top three in the boys' team standings, while Model and Gordon Central finished second and third for the girls.