PREP TENNIS: Model boys, Rockmart girls repeat at Region 7-AA champs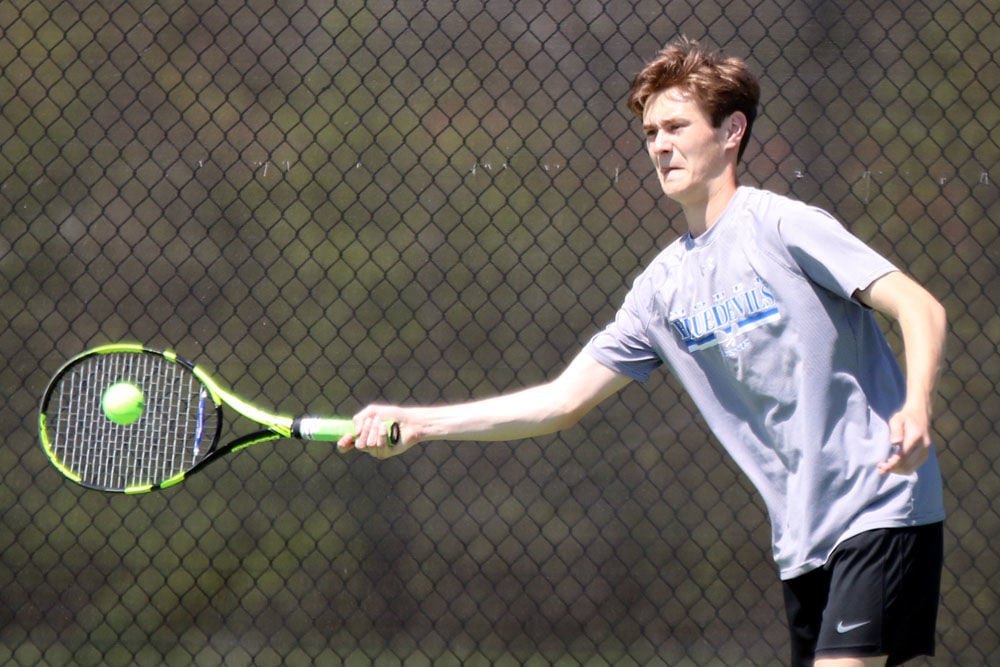 And so on Tuesday, both carried that philosophy to a successful conclusion, repeating as the Region 7-AA champions and darting into the Class AA state playoffs as No. 1 seeds.
"We lost five seniors from last year and only have three seniors this year, so we're pretty young," Model boys' coach Josh Goss said. "I'm just really proud of how hard our guys play and the improvement they've shown throughout the year."
Both the Blue Devils' and Lady Jackets' region title defenses were boosted by the play of their doubles lines, with each team clinching wins Tuesday afternoon thanks to victories at No. 1 and No. 2 doubles.
"The difference from last year was getting better play at the bottom of our roster," Rockmart girls' coach Kent Mathis said. "Our doubles play this year is better than it was last year, so instead of relying on our singles to carry us we can feel more comfortable knowing our doubles teams can compete and win as well."
Model's boys defeated Rockmart 4-1 in Tuesday championship round at the Rome Tennis Center at Berry College, while Rockmart's girls topped Armuchee 4-1. All four teams will start the state playoffs at home next week, with dates and times to be determined.
In the consolation finals, Armuchee's boys defeated Coosa 4-1 to earn the No. 3 seed in the playoffs, and Model's girls won 4-1 over Pepperell. Each of the four teams will be on the road in the opening round of the state playoffs next week.
The boys' championship round included its fair share of suspense as the region's top two teams once again battled each other in tight matches.
Model's Parker Stone completed his 6-2, 6-2 victory at No. 1 singles first, keeping the sophomore undefeated in his high school career. The No. 1 duo of Micah Veillon and Justin Roberts then fought to a 7-6, 6-2 win to give the Blue Devils the 2-0 lead.
Jackson Norris put Rockmart on the board with a 6-4, 6-4 win at No. 2 singles, but Model recovered at No. 2 doubles as Chase Geier and Barton Sopata fought to a 6-4, 7-5 win that sealed the deal.
"Rockmart is very young and well coached, so they are only going to get better," Goss said. "I was concerned about our doubles since we've had to rebuild our entire doubles line this season but they've worked hard."
Model's Eli Abdou and Rockmart's Bennett Vest played out their No. 3 singles match, with Abdou coming back from a first-set loss to win 4-6, 7-5, 6-4. The Blue Devils are 16-0 on the season.
It was a quick succession of finishes over Armuchee that brought the Lady Jackets their second-straight 7-AA title. Taylor McVey wrapped up her No. 3 singles win, 6-0, 6-3, followed by Rockmart's No. 2 and No. 1 doubles earning wins.
Alexis Casey and Rose Haney won 6-4, 6-2 at No. 2 doubles, before Alexis Clanton and Anna Smith won 7-6 (7-5), 6-1 in the No. 1 slot. Hannah Dellis picked up Armuchee's lone win at No. 2 singles, 6-1, 6-4, while Rockmart's Emma Evans finished the day out with a 6-4, 6-4 win at No. 1 singles.
The Lady Jackets are 39-3 over the last two seasons, going 20-1 this season. Mathis said having all but one starter back from last year's team was only the start of their success.
"We had a good offseason," Mathis said. "I opened the weight room and had four or five girls in there every day. And all seven of our starters are in weight training. That's helped out a lot."