Prep Spotlight: Walraven makes winning look easy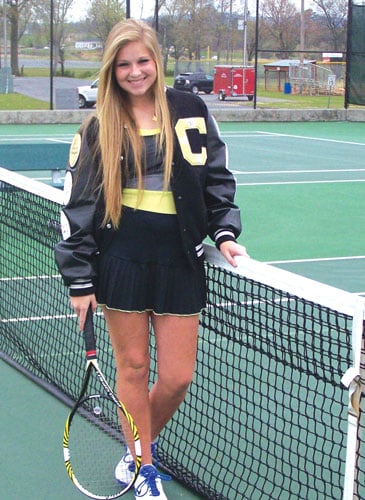 As far as high school athletic careers go, Bree Walraven's has been about as successful as any you will ever see.
The Calhoun senior has been a part of two playoff appearances and a region championship in softball, four straight playoff appearances and two region championships in basketball and four straight region titles in tennis.
And not only has she been a part of those teams, she's been an impact contributor on most of them. Walraven was a four-year starter for coach Diane Smith's Lady Jackets softball team, has started the last two years for the girls basketball team for coach Jerry Pruett and has played in some capacity in either singles or doubles for much of her career playing tennis for coach Lynn Davis and coach Robin Proffitt.
And despite having a lot of her time filled up with games and practices, Walraven has managed to take care of business in the classroom. She plans on attending West Georgia next fall after graduating in a couple months.
Recently the Calhoun Times caught up with Walraven to discuss her thoughts on the current tennis season, her reflections on her final softball and basketball seasons, her memories as an athlete at Calhoun, her love for some of her teammates and her plans for after high school, among other subjects.
Here's what she had to say:
CT: How's tennis season going so far? What are your expectations for the rest of the season?
Walraven: This year I think any of us can play at any spot in the lineup. The singles have changed a lot. Anybody can be put anywhere. We all are about the same, and we're all pretty good. And the boys are doing well too. I think both teams are going far. Hopefully we'll both win region.
CT: Reflect on your last basketball season that ended a little over a month ago in the Class AA Elite Eight? How good was the team this year and how memorable of a season was it?
Walraven: This past season was probably the best I've had in high school. I loved it. I had good teammates to play with and good seniors. We worked really hard because we knew we could go really far, and our hard work paid off. I thought we could've won state, but sometimes it just doesn't happen. Wesleyan was really good.
CT: Take us back to your last softball season. The team had expectations to go to the Elite Eight in Columbus so was it a little disappointing to come up short of that? What did you take away from that season?
Walraven: I think we should've gone further than we did. None of our softball seasons have ended very well. It just wasn't our time at the end of the season. We always managed to mess up, I guess. But we had a lot of talent on that team, really on all the teams I've played on
CT: What's it been like to be a part of so much success in athletics at Calhoun over the last four years?
Walraven: At Calhoun, everyone's used to winning so I'm glad we could carry on that tradition. We've never been used to losing so I'm glad we could pull out a lot of wins. I don't know what it would be like to lose really. Everyone works really hard at Calhoun.
CT: What's your favorite memory as an athlete at Calhoun?
Walraven: This past basketball season, I'll remember that one. We worked hard and went far. And all the camps I've gone to over the past few years. To be able to grow as teams there has been the best.
CT: Which one of your coaches has had the biggest influence on you? Why?
Walraven: I would say coach Michael Davis. He's put up with me in homeroom for four years, and he's one that actually gets me. Because of him, I work harder.
CT: What's it like playing several sports and juggling schoolwork also?
Walraven: We stay busy. The majority of the athletes at Calhoun stay busy. We keep up our grades, and we win a lot in sports. It just keeps us busy and out of trouble.
CT: Who's an athlete you admire or try to model yourself after?
Walraven: (My teammate in basketball) Taylor Palmer. She pushes everybody to do better and hustle. And Tess Wright in basketball. She works hard at all times. She's always at the gym.
CT: What are your plans for after high school?
Walraven: I plan on attending West Georgia. I want go into nutrition and dietician. And hopefully I'll be in a sorority.
Bree's Favorites:
Food: Chicken
Fast Food: Chick-Fil-A
Movie: The Last Song
TV Show: One Tree Hill
Band/Artist: Mumford and Sons
College: West Georgia
Nickname: Bree-Bree
Male Celebrity: Robert Pattinson