Prep Spotlight: Rome High's Courtney Lovingood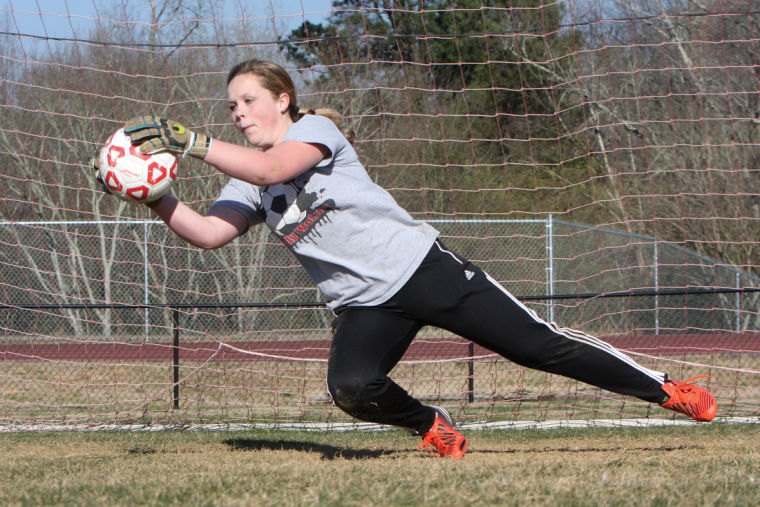 Being a senior can create bittersweet emotions for high school athletes as they experience the final days of their prep careers.
But Rome High's Courtney Lovingood, a multi-sport standout for the Lady Wolves soccer and softball teams, is making sure her final days in high school are marked with successful memories.
Playing the keeper position for the soccer team, she has helped the Lady Wolves jump out to an 8-1 record thus far this spring.
The hot start has put Rome in position to battle for a region title — and a possible berth in the state playoffs for the first time in Lovingood's career.
On the softball field, Lovingood played a key role in leading the Lady Wolves to one their most successful seasons in recent history. The Lady Wolves finished 12-12 overall, and Lovingood earned a spot on the All-Area team.
The Rome News-Tribune recently caught up with the two-sport athlete. Here's what she had to say:
RN-T: Does it feel bittersweet as senior to be finishing off your high school athletics career after four years?
LOVINGOOD: It feels really great, because this year was the best softball season that we've ever had. We went 12-12, which was a lot better than the seasons we've had previous, so that was really great.
In soccer, we're also doing really well. We're 8-1, and we really want to win region this year, and maybe go to state. That would be really exciting, because I haven't experienced that in a high school sport. I am just really excited.
RN-T: How important do you think the bond is that you have with your softball and soccer teams?
LOVINGOOD: Well, a lot of the people that I played with on the softball team, I've played with since I moved to Rome, so that was really cool, and now I'm best friends with almost every person on the soccer team. We are all really close, and all of us get along and hang out outside of school, so it's really great.
RN-T: In addition to the team bond, how much of an influence have your coaches had on you throughout your high school athletics?
LOVINGOOD: I really liked coach (Travis) Spell (previous Rome softball coach before the 2012 season), and he was funny and fun to have as a coach for three years.
Coach (Michael) Dougherty (current Rome softball coach) was really great coming in this year, and he did a lot to help the program.
Coach (Steve) Davis and coach (Jessica) Hewitt (Rome girls soccer coaches) — I can't say enough about them. Coach Davis is the reason I even play soccer, because he came up and asked me to play, so that's how I got out there. Coach Hewitt is really great too, and we get along really well, and she's funny and works really well with the team.
RN-T: As a senior, what are your leadership roles like on the teams?
LOVINGOOD: Well, on softball I was a captain, because I've been playing for a really long time. Courtney Adams and I were dual captains. I really felt like a leader on the softball field.
Soccer-wise, being a senior, I try to really motivate everyone and during games I talk consistently since I'm a goalie. I just try to shout things that'll motivate everyone.
Theresa Stevens and Frannie Wilson are captains and they do a really great job, and I feel like all the seniors have really stepped up this year and have done a great job.