PREP GOLF: Local teams ready to tee off at state championships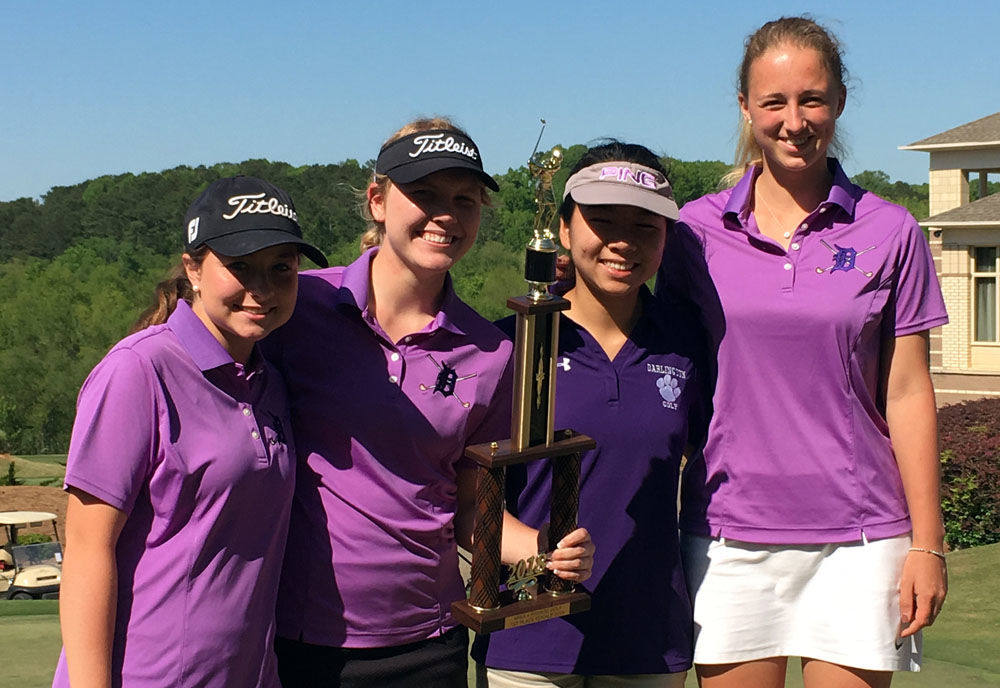 Teams and individual qualifiers are scheduled to play 36 holes over the two days at 14 host golf courses beginning on Monday.
Darlington's boys and girls teams will tee off at Heron Bay Golf Club in Locust Grove, coming off their recent Area 4-A Private titles. Darlington's boys came away with a five-stroke victory over Mt. Paran, and the girls topped King's Ridge by seven shots.
Darlington golf coach Chad Woods said he was happy with the performance of his boys' team during the area tournament.
"I think on the boys' side, we feel like we played well for the area tournament," said Woods. "Hopefully we didn't peak, but we're playing very well. We're just trying to work on a few things and improve from the area tournament."
While the Lady Tigers posted the lowest area score of any Class A Private qualifying team, Woods said they may not have played their best during the area match and he is confident in their chances of coming away with a state title.
"They're certainly capable of winning the whole thing," said Woods. "They're just trying to get ready to compete against some really good golf teams."
Among those teams are defending champion Wesleyen and Tallulah Falls, which came within a stroke of Darlington's 18-hole total with a team score of 166 to take the Area 2-A Private title.
Pepperell's girls were also crowned area champs when they ran away with the 3-AA title with a final score of 190. The closest team was second-place Gordon Central with a 210.
Despite the 20-shot victory, Pepperell golf coach Brian Henderson said he sees room for improvement.
"We don't think we played as well as we could," said Henderson. "We didn't have our best offering. We'd like to stay in the top five. We're just going to try to stay in the running."
Henderson said while it will be tough to beat St. Vincent's, which posted a winning score of 169 in the Area 1-AA tournament, he feels his team has a good chance against the rest of the field.
Rockmart's girls were a close third at the 3-AA tournament with a 211, also qualifying for the Class AA girls' state championship, which will take place at Waynesboro Country Club.
Also in 3-AA, Rockmart's boys came away with second place, and Model's Cody Boazman and Armuchee's Dre'Quan Cook qualified for state as individuals. Boazman shot a 79, while Cook followed close behind with an 80. The Class AA boys' state tournament will be held at Applewood Golf Club in Keysville.
Rome High's Hogan Ingram made his mark in his first year on the Wolves' team with a 75 to win the Area 4-5A individual title. The freshman finished with a 3-over 75 to beat Cass' Mason Lee one stroke. Ingram will play as an individual in the Class 5A championship at Planterra Ridge Country Club in Peachtree City.
Cedartown, which finished in fourth place in the 4-4A tournament with a 330, will compete in the state match at Achasta Golf Club in Dahlonega.