PREP FOOTBALL: Wolves turn focus to Trojans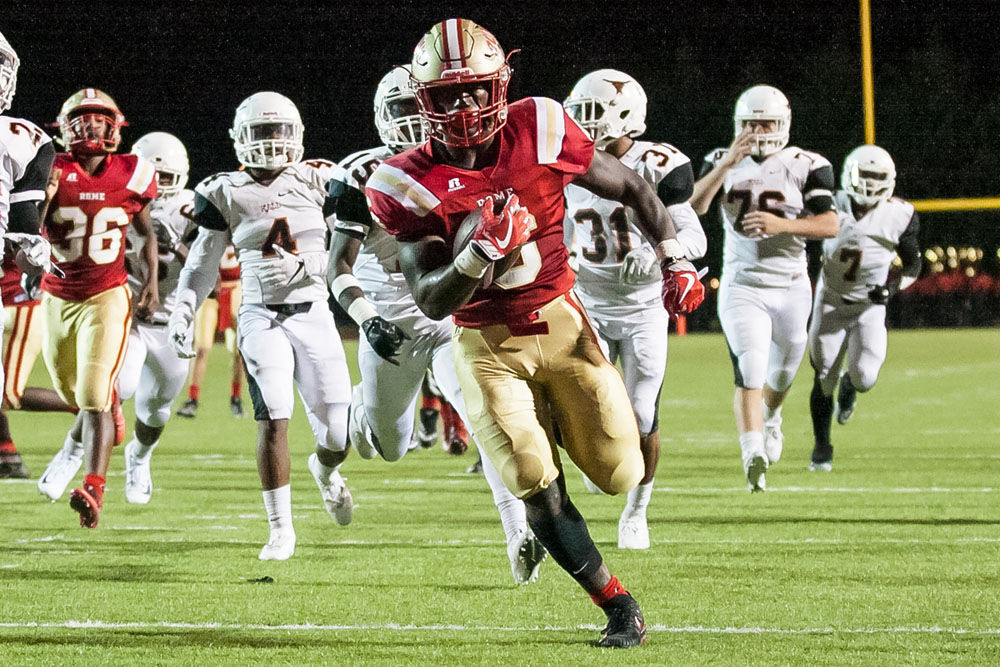 After a 4-0 start that includes wins over Harrison and Kell, the top-ranked Wolves host No. 4 Carrollton on Friday to complete its first half of the regular season. Both teams enter the game undefeated and atop the Region 7-5A standings.
But none of that changes how Rome plans to go about its week. It's just one more game, and another chance to test them on the football field.
"In a big game like this, you are just going to treat it like any other game" Rome quarterback Knox Kadum said. "You just need to have trust in your coaches and trust in the players around you. We do what we work on, we execute the best we can, and we can beat anybody."
The school has already began preparing for the highly-anticipated game, with presale tickets for $7 available at the Barron Stadium ticket booth from 12-2 p.m. starting today. Meanwhile, student tickets go on sale during lunch periods today as well.
The matchup is sure to feature its fair share of scoring with Rome and Carrollton sitting first and second in point per game among 5A teams. Just last week, the Wolves scored 49 points in one half in a 62-0 win against Paulding County.
The Trojans utilize a multi-faceted offense, and Rome head coach John Reid just hopes his team can get as many quick stops as possible.
"In these situations, you just need to make as many good plays as you can," Reid said. "It's like a good golfer who doesn't make two bad shots in a row. We need to avoid making two bad plays in a row."
Rome's offense has had few troubles so far this season, with Kadum passing for 699 yards and eight touchdowns to gow with 166 yards rushing and another score. Running backs Jamious Griffin and Jalynn Sykes have more than 350 yards rushing and five touchdowns each. Meanwhile, the defense is allowing just 17 points per game after shutting out two opponents.
But Reid always wants the team to continue to improve no matter who it plays. Against Carrollton, the coach wants his team to focus on moving off blocks and making clean tackles.
"We chart missed tackles, and I think we have had a few the last few weeks," Reid said. "This is going to be a game where you are going to have to tackle well, so improving on that is a big goal."
Rome had one of its most important wins against Carrollton last season, a 45-28 triumph on the road that was crucial in the Wolves winning the region title. Griffin recorded four touchdowns and the defense allowed just seven second half points in the contest.
The Wolves haven't lost since then, and that's partially thanks to the team going about every week the same. With another top team coming to their home turf, they welcome the challenge.
"I feel like with having Harrison and Kell already, and in that home atmosphere, it gives us a huge advantage this week," Kadum said. "We know Carrollton is great and is going to come out strong, so we need to hand it to them early."