PREP FOOTBALL: Dragons roll to easy 7-AA win over Blue Devils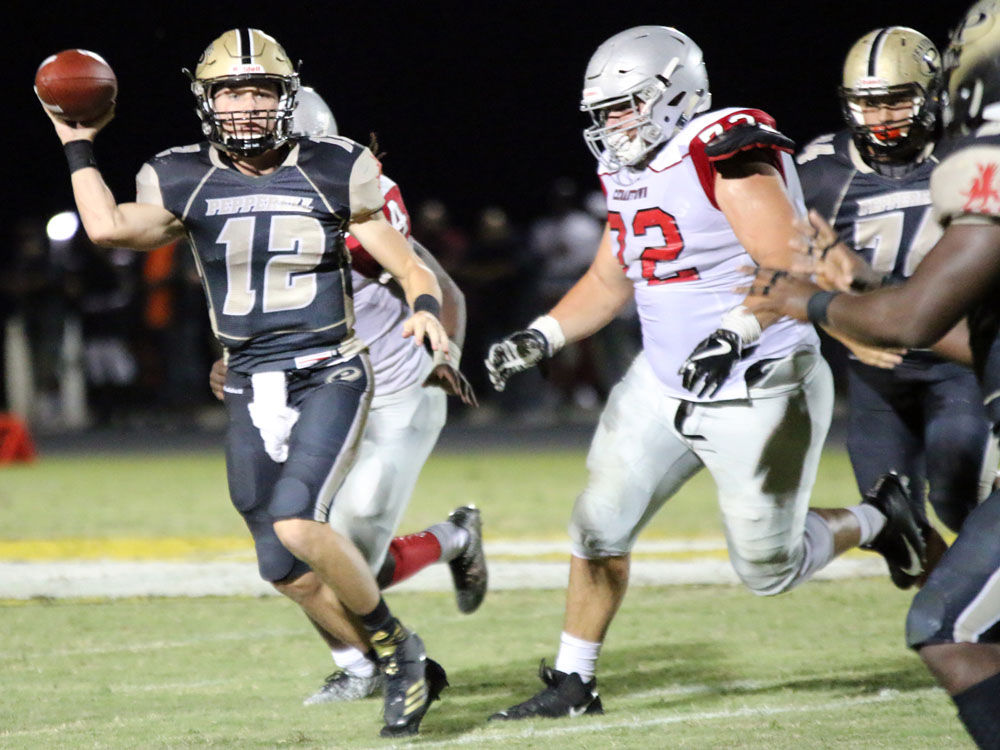 The Pepperell Dragons remained undefeated in Region 7-AA play as they dominated Model 49-0 in Lindale on Friday night. The win is Pepperell's second shutout of the season and the most points it has scored all year.
Senior quarterback Trevor Thomas went 9-for-13 for 253 passing yards and two touchdowns along with 99 rushing yards and a pair of scores on the ground. His favorite target T.J. Watkins recorded five receptions for 197 yards and two touchdowns.
Junior tailback Cameron Miles led the Dragons (4-2, 3-0 7-AA) on the ground with 106 yards and one touchdown.
Model (1-5, 1-2) struggled on offense all game as it averaged only 3.1 yards per play. Running back Kwalic Dublin recorded 90 rushing yards and quarterback Jackson Couch had 59 total yards.
Thomas was the star of the game throughout the first half, beginning with a 19-yard touchdown run halfway through the first quarter. He found Watkins for a 68-yard touchdown pass to go up 14-0 with 2:17 left in the quarter.The quarterback pushed Pepperell up 21-0 when he scored on a 15-yard touchdown run with 8:27 left in the half. Then, with just one second before halftime, Thomas found Watkins again, this time on a 59-yard touchdown pass to go up 28-0. 
The third quarter began with Miles scoring on a 33-yard touchdown run, and Tae Hammond scored on a three-yard run with 5:02 left to go up 42-0. Darien Pasley scored on a 73-yard touchdown for the final score of the game.
After a bye week, Pepperell plays one of its biggest games of the season when it travels to play Rockmart. Meanwhile, Model returns home in two weeks to host Chattooga.