PREP CROSS COUNTRY: Runners have breakout day at Ridge Ferry Invitational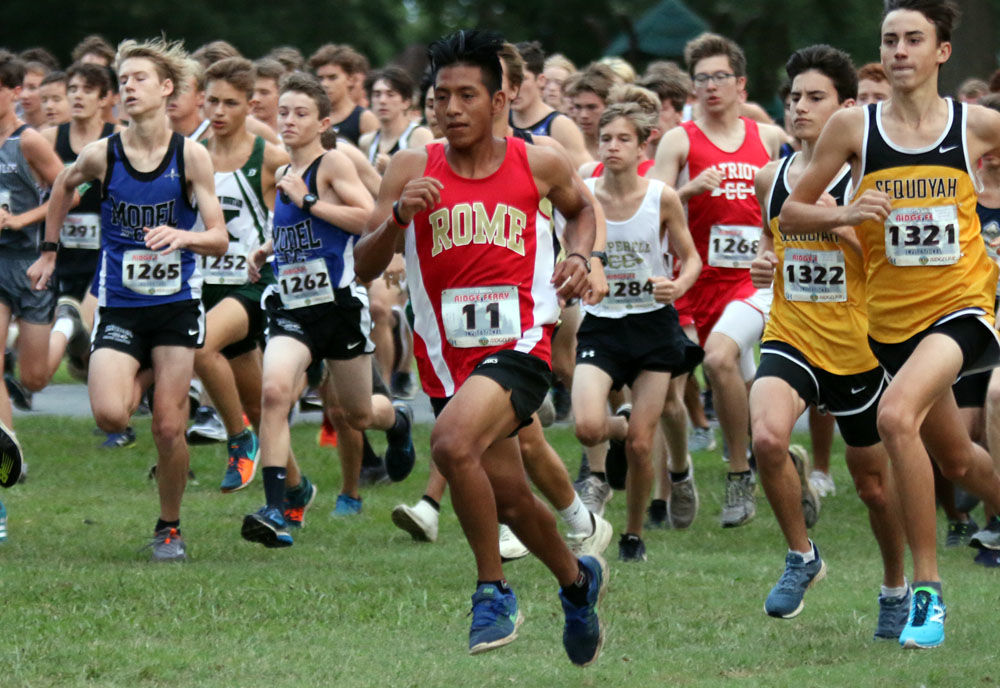 And for the several local athletes who competed in the 27th annual Ridge Ferry Invitational, the test showed promising results.
The teams from Rome High School, which hosts the unofficial kickoff to the local cross country season, finished with top-five finishes among the more than 20 schools who participated. The Lady Wolves placed fourth in the girls' standings, while the boys were fifth.
Armuchee had a strong showing with both of its teams coming in eighth in their respective standings, while top runners Chaney Holder and Chloe Purdy each set new school records in the process.
"I feel really good. I've been training all summer for this, so the outcome was pretty good for me," Holder said. "And the course ran a little slower than I expected, but it still worked out well for me and the team."
Holder began his senior season finishing the 5K with a time of 16 minutes, 53 seconds for sixth place overall and a personal best. He and his teammates will be working to both defend their Region 7-AA title and second-place finish at the Class AA state championships last year.
Purdy, a sophomore, came in at 20:59 to set her PR and finish 19th overall. Armuchee coach Scott Pierce said he believes both students are just beginning to reach their potential for this season.
"Chaney ran close to 400 miles this summer, so he's put the miles in. And Chloe is just a natural athlete. She can run and she's in shape. And I think they both can run faster this year," Pierce said. "I don't think the course is running as fast as it did last year."
Rome senior Esdras Real came in just behind Holder for seventh in the boys' race, posting a time of 16:59 to lead the Wolves. John Finn and Patrick Motes weren't too far back, as Finn finished 18th with a time of 17:45 and Motes was 21st at 17:49. Rome's boys won the Region 7-5A title last year.
For the Lady Wolves, Janet Hartman and Nora Bailey stuck side by side the whole way, with Hartman sprinting ahead of her teammate in the final meters for 14th and a time of 20:52 while Bailey came in at 20:55. The marks were new personal bests for both girls as they work to improve on their region runner-up finish in 2017.
"The first race of the season causes a lot of adrenaline because you don't really know what's going to happen," Bailey said. "And there's the fact that the course is really flat and of course we know it really well. So we're all willing to give it our all because we're prepared for that.
"I think there's also an attachment to this race because it's ours, so we want to defend our home turf and show everybody who we are and what we run."
Kennesaw Mountain won the boys' overall title, while Murray County's Jesse Martinez was the top finisher with a time of 16:05. Woodland's girls had a dominant performance, taking first with a miniscule 20 points. The Lady Wildcats' top four runners finished in the top five, including overall winner McKenna Trapheagen, who finished in 18:27.