PREP CROSS COUNTRY: Darlington runners gain first wins in All-Area meet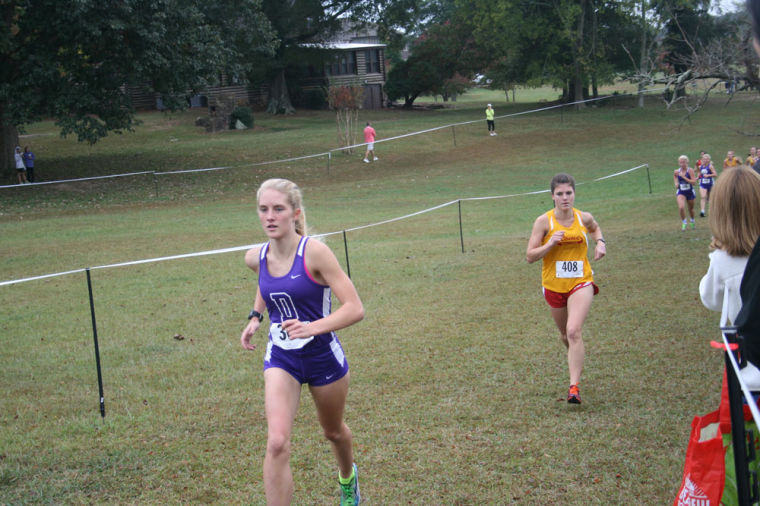 Saturday morning, Darlington's runners put on a clinic in the Go-Go Running Rome News-Tribune All-Area Meet, winning both the boy's and girl's overall titles and the individual titles as well.
While the Tigers have ranked highly all season, Tigers' coach Alan Parish said the real part of the season is just getting started.
"This is the meet that we've been circling all season," Parish said. "Every race up until this point is really just training, getting ready for the big three."
In the boy's race, Darlington junior Spencer Fields covered the course in 17:02 grabbing his first individual win. His teammate Avery Cypress placed second, roughly 30 seconds behind him.
"This is the first of the three really important races of the season, so this is a good sign," Fields said. "It's pretty important to win your first one on a championship, especially."
In the girl's race, Darlington's Stephanie Ward, a sophomore, surged to a lead and never looked back, crossing the finish line in 19:39, almost a minute ahead of runner-up Jenna Tilton of Rome.
"I was looking forward to trying to get first," she said. "It was good for our team. Our whole team did well. We've been good together all year."
The celebration wasn't limited to the top runners though as the Lady Tigers put their top five runners finished in the top 11 to claim the title with a 28.
They were followed by Rome (44), Cartersville (107), Calhoun (123) and Model (132).
Following Ward for the Tigers were Kinslee Clevenger, third place in 20:46, Lauren Hooper, fourth place in 21:04, Mamie Johnson, ninth place in 21:52 and Abby Cantrell, 11th place in 22:14.
On the boy's side, Darlington put its top five runners in the top nine spots grabbing first with a score of 23. They were followed by Rome (78), Cartersville (92), Pepperell (100) and Calhoun (123).
Darlington's Chris Edwards followed Fields and Cypress, placing fifth in 18:13, while Coulter Schrum finished sixth in 18:18 and Jared Deaton finished ninth in 18:23.
Parish praised both Ward and Fields for getting the individual wins.
"That's always a fun experience for anyone to do that their first time," he said.
Pepperell's Brian Vincent placed third overall in the boy's race leading the Dragons, while Calhoun's Eric Garcia finished fourth.
Cartersville's Evan Cole finished seventh while Coosa freshman Jose Reyes led the Eagles with a ninth-place finish and Pepperell's Joey Purser rounded out the top 10.
On the girl's side, Rome's Lizzy Bressette finished fifth for the Wolves and Isabella Schlitz finished eighth. Chattooga senior Cheyenne Porter finished sixth overall, Cartersville's Bree Cole finished seventh and Calhoun's Erin Putnam placed 10th.
With roughly a week and a half before the region meets, Parish and his Tigers will focus on the next important meet circled on the calendar.
"With region, we have a whole new field of teams," he said. "It's different. You have to handle it out in space. But our girls have won seven region championships in a row, and we're looking to extend that. Our boys are trying to win their third in a row before moving onto state. We've got a lot to do."
Meet results:
GOGO Rome Area XC BOYS MS 2MILE
GOGO Rome Area XC GIRLS MS 2MILE
GOGO Rome Area XC Open 5K LIST