PREP BASKETBALL: Rome, Byrd top Coosa in Christmas tourney thriller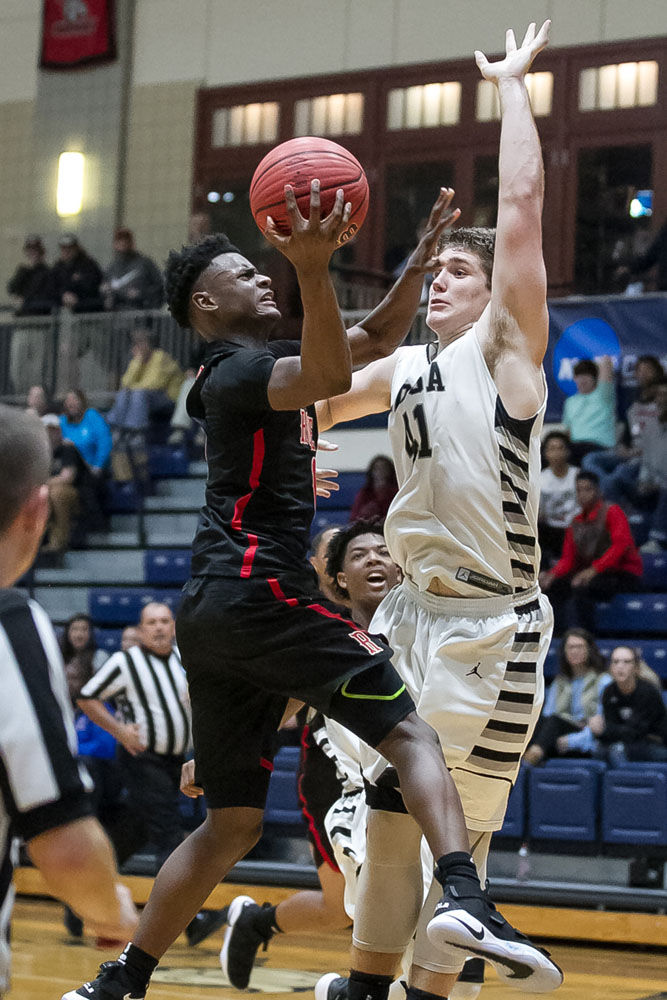 The thrill of the Rome News-Tribune/Seven Hills Rotary Club Christmas Tournament didn't take long to settle in as the boys' games had plenty of excitement.
In the nightcap at Berry College's Cage Center, Rome made a late run and overtook a fast Coosa team to win its first game of the season 57-54.
The contest was highlighted by the duo of Coosa's Kenon Dixon and Rome's Caleb Byrd. Both were excellent on the night as Dixon led Coosa with 18 points and Byrd was responsible for 32 of Rome's points.
Byrd came through in the clutch as he had 16 points in the fourth quarter, including knocking down multiple important free throws down the stretch.
Besides Byrd, Rome's other leading scorers were Jordan Watkins with five followed by Xavier Roberts and Jevard Williams, each with three.
For Coosa (3-4), Tavares Herrington finished with 12 points, while Sean Brown had eight. The Eagles will take on Woodland at 4:30 p.m. on Wednesday while Rome advances to Thursday's semifinals.
In other action:
Sonoraville boys 55, Woodland 52
A back-and-forth affair came down to the final seconds Monday at Georgia Highlands College as Sonoraville's boys pulled out a 55-52 win over Woodland.
With Sonoraville holding a slim 40-37 lead after three periods, the game saw five lead changes in the final eight minutes. Phoenix Will Walraven hit both free throws with 29.2 seconds left to give Sonoraville a 53-52 lead before teammate Chris Rush got a pass and dunked with 7 seconds to go.
Woodland's Hunter Johnson attempted a 3-pointer at the buzzer that banked off the rim.
Walraven led the Phoenix (8-0) with 26 points, including four 3's, while Rush finished with nine and Lucas Brooks had eight. Woodland (1-7) was paced by Justice Carter's 12 points. Dawson Wilkins and Hunter Johnson each had 10.
The Wildcats will take on Coosa at Georgia Highlands on Wednesday at 4:30 p.m. while Sonoraville faces Darlington at 7:30 p.m.
Model boys 60, Armuchee 43
Four Model players reached double digits and the Blue Devils outlasted their Floyd County rivals Monday 60-43 at Georgia Highlands College.
Armuchee got within two of Model in the third period, 38-36, but the Devils finished the quarter on an 8-2 run and then outscored the Indians 14-5 in the fourth to seal the win.
Model (3-4) was led by Josh Smith, who finished with 17 points and a pair of 3-pointers. He was followed by Jared Bomer (16), Justin Roberts (14) and Jackson Lively (10).
Armuchee (2-8) shot seven total 3's as a team, with Eli Brock setting the pace with three of his own for nine points. Tamalachi Lovelace and Brayden Perry each finished with eight.
The Indians will face Pepperell on Wednesday at 3 p.m. in a consolation bracket at Georgia Highlands, while Model advances to the semifinals Thursday at 5:30 p.m.
Cartersville boys 79, Pepperell 36
Cartersville's boys jumped right back into the Christmas Tournament with a 79-36 win over Pepperell at Berry College on Monday.
Cartersville (2-0) was led by TJ Horton, who put up 19 points to lead both teams in scoring. Perignon Dyer finished with 14 while Jaylon Pugh added 12.
Branson Hanks and Dawson Melton both led the Dragons (2-3) with 10 apiece. Andrew Wilder was next with eight.
Pepperell will play Wednesday at Georgia Highlands against Armuchee at 3 p.m. The Hurricanes will play Calhoun in the quarterfinals on Wednesday at 6 p.m.
Sports Editor Jeremy Stewart and correspondent Jay Hawkins contributed to this report.