PREP BASKETBALL: Close calls for teams on Day 1 of Christmas tourney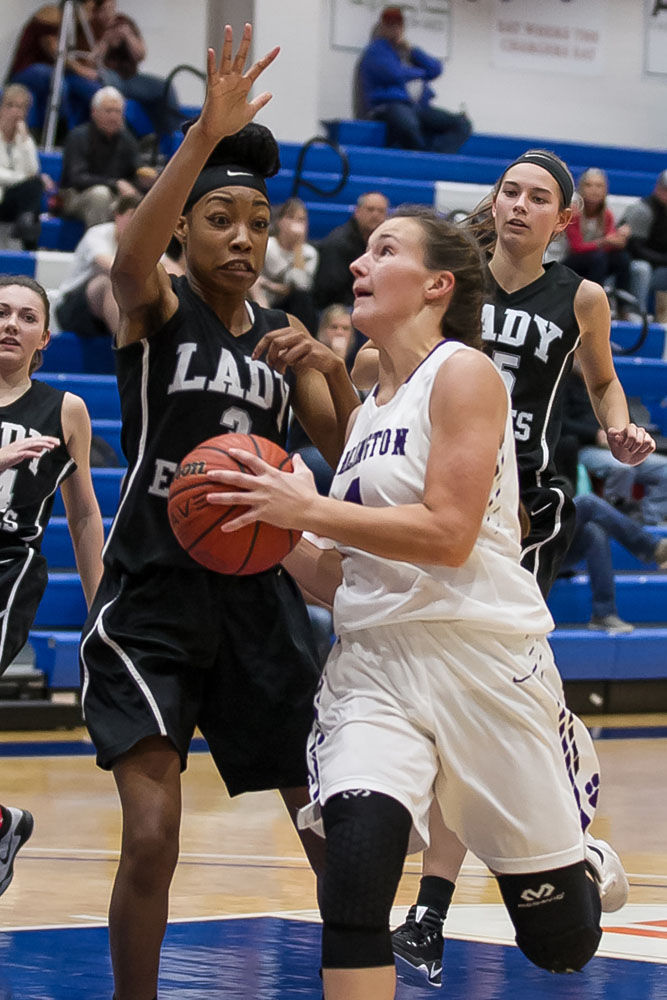 Several close games marked the first day of the 64th annual Rome News-Tribune/Seven Hills Rotary Christmas Tournament.
A defensive push from Coosa's girls in the fourth period nearly spoiled Darlington's Christmas Tournament in the first game at Georgia Highlands College on Monday.
Up 38-29 after three quarters, the Lady Tigers were held scoreless for the final eight minutes of the game.
Coosa then used turnovers to close the gap before coming up just short, 38-36.
Darlington (2-3) was led by Caroline Dingler's game-high 14 points, which included a pair of 3-pointers.
Sydney Seymour followed with nine points for the Lady Tigers and Olivia Adams finished with two 3's.
Coosa's Carah Arrant fouled out in the fourth period with 10 points, Taylor Roberts scored five of her nine points in the final quarter, and Gracie Shumate had a pair of treys.
The Lady Eagles (2-5) will play Cartersville today at 3 p.m. in a consolation game at Georgia Highlands, while Darlington is back in action Thursday at 5:30 p.m. at Berry College in a semifinal game.
In other action:
Woodland girls 34, Cartersville 32
In the opening game of the Christmas Tournament at Berry College, the Woodland's girls defeated Cartersville 34-32 in a Bartow Country rivalry showdown.
The Lady Hurricanes outscored the Lady Wildcats 13-9 in the fourth quarter, but Cartersville's comeback came up short.
Woodland (2-4) was led by Whitney Harris' game-high 14 points, inlcuding four 3-pointers in the second half.
Madgie Robinson was second on the team with 11 points.
Cartersville (3-4) was led in scoring by A'mya Davis with seven points. Kallie Scheff was right behind her with six.
The Lady Hurricanes will play Coosa in a consolation game at 3 p.m. at Georgia Highlands College.
The Lady Wildcats take on Model in a quarterfinal matchup at 6 p.m.
Armuchee girls 38, Sonoraville 36
BrandyAnn Wacker went 4-of-5 at the line in the final seconds of Monday's game and Armuchee's girls edged Sonoraville 38-36 at Georgia Highlands College.
The Lady Indians (7-3) held a 10-point lead with 3:47 left in the fourth before Sonoraville put together a comeback bid with an 11-1 run over the next 2 minutes of play and tied the game 33-33 with 1:33 to go.
Livia Skinner led Armuchee with 10 points while Wacker and Katie Shinholster each scored eight. Six of Sinholster's points came from her two shots behind the arc.
The Lady Phoenix (5-3) were paced by Maliyah Parks' 15 points. Alexa Geary added 12 total, 10 of which came in the fourth period, including a pair of 3's.
Sonoraville plays Pepperell today at 4:30 p.m. in a consolation game at Georgia Highlands while Armuchee will take on Rome 7:30 p.m.
Calhoun girls 51, Pepperell 43
A Pepperell Lady Dragon push in the second half wasn't enough Monday as Calhoun came away with the 51-43 win at Berry College's Cage Center.
After jumping out to a 11-0 lead, the Lady Yellow Jackets were ahead until a good portion into the third quarter, as Pepperell came storming back.
However, Calhoun was victorious in the end, 51-43.
Calhoun (3-3) was led in scoring by Erin Davis with 11 points.
Railey Greeson finished with 10 points, while Lyndi Rae Davis and Anna George also added seven apiece.
Pepperell (2-5) was led by Grace Hufford with 14 points, Josie McGraw with six, and Kinsey Wright and Maycy Owens with five each.
Pepperell will face Sonoraville in a consolation game today at 4:30 p.m. at Georgia Highlands.
Calhoun waits on the winner of today's Rome-Armuchee game for its semifinal contest on Thursday.
Sports Editor Jeremy Stewart and correspondent Jay Hawkins contributed to this report.