Prep baseball: Rome's Tucker making big impact on football field and baseball diamond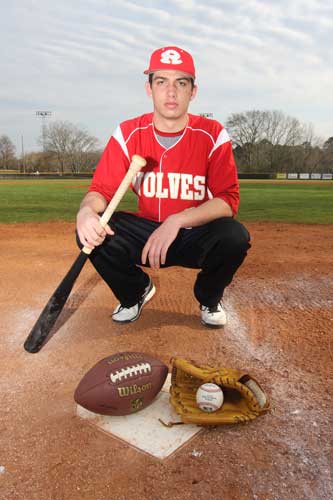 Most athletes look forward to the offseason after putting in the hours of hard work that the most demanding high school sports require.
But Rome High's Bo Tuc-ker doesn't take a break.
The baseball and football standout has played a prominent role on both teams well before he has reached senior-year status.
Tucker, a junior, has been a starter in all three of his high school baseball seasons and plays this year at centerfield and pitcher.
At the plate, Tucker has played a major part in the Wolves' 6-1 record so far this season, including delivering a couple win-clinching hits.
All his experience on the field has paid off as it has culminated in his commitment to play baseball for the University of Georgia after high school.
Tucker takes on a leadership role on the football field as well.
At quarterback, he led his team to an 8-3 season and made the RN-T All-Area second team.
Tucker hopes to take the football stride even further in the coming season, especially with a Rome team whose most key offensive players were non-seniors in the 2012 season.
The RN-T recently caught up with Tucker to discuss his multi-sport career. Here's what he had to say:
RN-T: Do you think it's hard to find the balance when you're dedicated to two sports?
TUCKER: Yes. Sometimes it's a lot of hassle, because sometimes the football coaches want me doing one thing, and the baseball coaches want me doing another.
RN-T: The bond between teammates is pretty important. Talk about the bond you have with both of your teams and how important it is.
TUCKER: With football it's a big deal, because I'm supposed to be a leader since I'm at quarterback. In baseball a lot of people look up to me there too, because I'm committed to Georgia.
I have a pretty good bond with both teams, but it's something you have to work a lot for too.
RN-T: Do you think it's difficult barely having time between the time football ends and baseball training begins?
Tucker: It's hard, but I wouldn't change it. I like it, because I like always being busy.
RN-T: Do you football helps with keeping you geared up for baseball and vice versa?
Tucker: I think that's true, for sure. It helps a lot.
RN-T: Your senior year is coming up. What kind of goals do you have for your last baseball and football seasons?
Tucker: One goal is to win state, of course. That's always a goal. We want to win region in baseball and football, and to just be successful mostly.