Jackets state title game bound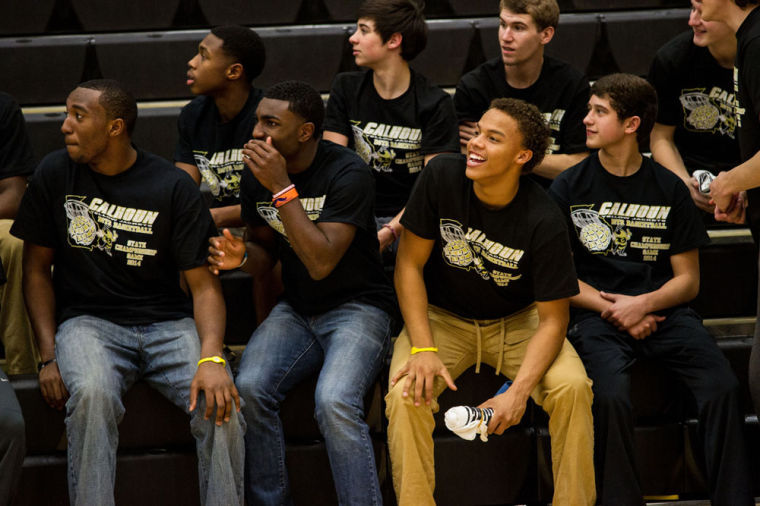 The Calhoun boys have one obstacle that stands between them and their first-ever state basketball title.
And that obstacle is tall, fast, skilled, composed and undefeated.
But the Jackets are just fine playing the underdog role.
That's exactly what they'll be in most people's eyes today when they take on Greater Atlanta Christian in the Class AA State Championship Game today at 4:45 p.m. at the Macon Coliseum.
Calhoun coach Vince Layson said his team has grown to embrace being the underdog throughout the season, including last Saturday at Columbus State when his team defeated previously-undefeated Vidalia, 54-41, in the Final Four.
"Several people have written us off different times this season, and they are a lot that are doing it again this week," said Layson. "All that is for our guys is motivation. The more people come out against us, it gets the guys going that much more.
"We like being the underdog. I feel like we're playing with nothing to lose opposed to GAC, who everyone sees as the clear favorite."
Calhoun (26-2) is on a 12-game winning streak that dates back to January 14. GAC (31-0) hasn't lost a game since Dec. 29, 2012, rolling up 49 straight wins. The Spartans are not only the No. 1 team in Class AA in the state in every poll, they are No. 12 in the country in the USA Today Super 25.
GAC is led by Isaiah Wilkins, a Virginia commit and the stepson of former Atlanta Hawks legend Dominique Wilkins. He is just one of several talented players the Spartans boast.
Layson said his team knows the huge challenge ahead of them.
"They are a very well-rounded team with a mix of perimeter, post play and size," said Layson. "There's not one person on their team that's a liability, and they play well together.
"We know it's a big challenge, but the guys are looking forward to it. Our guys don't back down. They like to step up to challenges like this."
With all the hype of the state championship game, Layson said the goal this week was to keep things as normal as possible in practice.
"This group is tough to focus anyway because it's such a loose bunch, but this week has been even tougher," said Layson. "Playing the first four rounds in about eight days, and now, almost having a full week off before the championship game has made it pretty tough to keep the mental edge, but I think it's been tougher on me than our guys.
"We've just tried to keep it normal and stick to our routine. We got our legs back under us early in the week, and then we hit it hard Tuesday and Wednesday. Will do a light walk-through tomorrow, but mostly trying not to break our normal habits. We want to stick to what's been working."
The Spartans have had little trouble in the state tournament to this point with their closest game being an eight-point win last Saturday in the Final Four against a very talented Laney team.
They've averaged 70.5 points per game during their undefeated season.
Calhoun has had some close games in the playoffs, but all have had one thing in common — the Jackets have finished their wins with strong fourth quarters. They have outscored their opponents 90-44 in their four playoff wins.
The Jackets were once again shown the impressive support of the Calhoun community on Thursday afternoon with a pep rally before they loaded the bus for Macon.
Layson said the fan support has been unbelievable all season and especially over the past few weeks.
"Being a coach or a player in Calhoun is a dream come true," said Layson. "We have overwhelming support home or away, and there's always someone offering their help with something. This community is loves their team."
This will be only the second time Calhoun has played in the state finals in basketball, as they fell to East Hall in 2001 to finish as runner-up.
Layson said there are a few key things his team must do in order to give Calhoun their first basketball state title with a win over GAC.
"We've got to make it a four quarter game," said Layson. "We can't get into a big deficit early. We understand (GAC) is a very good team. We've just got to limit their runs and make a few of our own.
"We need to have another gritty, defensive effort like we had last week against Vidalia. We just want to keep ourselves in the ballgame and give ourselves a chance in the fourth quarter."