Heritage's Olivia Tamewitz chooses Ole Miss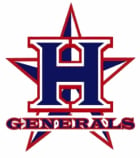 Heritage High School softball coach Steve Chattin said Sunday, Sept. 15 was another day of celebration for his Generals program with another member of the Class of 2016 making a verbal commitment.
Sophomore leadoff/slapper and centerfielder Olivia Tamewitz committed to Ole Miss on her second unofficial visit.
She follows Shelby Hammontree, also a sophomore, who committed to East Carolina University earlier this year.
Chattin said those who were prepared to offer Tamewitz included Lipscomb, Kennesaw State, East Carolina , MTSU, Murray State and Bowling Green. Other schools that had inquired about her were Mississippi State, Tennessee and Florida State.
He said that all the hype was true regarding the talents of Tamewitz and she deserves her spot playing in the Southeastern Conference.
"She's the real deal," Chattin said. "There's no question...2.65 from home to first (time) is pretty elite."
"This is our second year that she's been our leadoff hitter and the catalyst for our offense," he said. "She's added to our skill set for the last two years. She now hits away quite a bit, leading the team in triples with eight and has bounced a few off the fence. She just continues to improve."
Chattin, who said he had five other players from the Class of 2016 receiving interest, said Generals still playing in college are Amber Burton (Northwest Florida State), Renae Johnson (Chattanooga State), Jesslyn Stockard and Savannah Goldsmith (Chattanooga), Kristin West (Tennessee Tech) and Allison Vaughn (Piedmont).
Chattin said he thought Tamewitz, who is currently batting over .500 and carries a 3.75 GPA in the classroom, would do well at Ole Miss.
"I think it's a real good place for her," he said. "They're trying to build up from the bottom of the SEC and I'm hopeful by the time she gets there they will have made some good strides."
Tamewitz said she was very thankful for the opportunity she has and wants to thank her parents, Robin and Wayne Tamewitz, as well as her teammates and Coach Chattin.
"I'm very excited about Ole Miss," she said. "I love it there and I love the coaches. I'm very thankful."
Tamewitz said she's going to focus on improving and enjoying her high school career.
"This is a ton of pressure off of me," she said. "I'm excited I committed. Whenever you go into showcases it's really nerve wrecking, so I'm excited I don't have to go through that. I'm there and they want me so there's no backing out now."