GOLF: Lady Tigers win second state championship in three years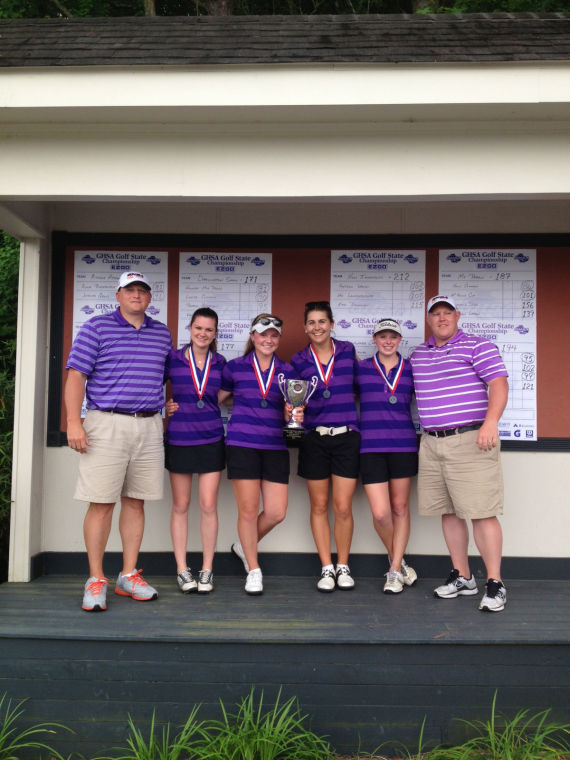 Last year Darlington's golf team missed out being state champions by one stroke against Athens Academy.
That fact made Monday a little sweeter for the Lady Tigers.
The team shot a 171 on Monday to win the GHSA Class A-Private Schools state golf tournament in Savannah earning a one-shot victory.
The win was the second in three years for the Lady Tigers.
"There is a lot of satisfaction in winning by a shot over Athens Academy after losing to them by one shot last year," said Darlington golf coach Josh Hembree. "These girls have been a pleasure to coach this year. They've worked extremely hard on their games throughout the winter and spring, and I'm super proud of every one of them."
Hannah Mae Deems tied for third individually with an 81. Lovisa Clausen shot a 90.
CLASS AA
The Armuchee golf teams completed their seasons Monday in Vidalia with state tournament appearances.
The girls' team finished eighth overall. The complete boys' state tournament results were not available at press time, but the Indians finished in either ninth or 10th place.
"I was really pleased with both teams," said Armuchee golf coach Scott Pierce. "The girls' program — it's not a brand new team, but it's really young. It's a young team that has really made a lot of progress and qualified for state for the first time in school history. I don't have anyone graduating, so I really expect to go to state for the next three or four years."
The boys' team, however, will look different next season.
"We lost a lot of seniors, so we're just starting over with new faces," said Pierce. "I'm really proud of the five seniors I had. They worked hard for it."
For the girls, Kacy Griffith shot a 111. In the boys' tourney, Tanner Boyd shot a 77, Jonathan Mason shot an 81, Cedricm Boehm had a 92, and Evan Holder carded a 95.
CLASS AAAAA
Rome High's boys had a long day on the golf course in their first-ever state tourmament appearance.
The tournament on Jekyll Island started at 10:30 a.m., but because of rain throughout the day, the team didn't walk off the course until 4:45 p.m.
Final tournament results weren't available at press time, but Rome High looked to finish around 13th place.
Adam Davis shot a 77 for the Wolves, Jordan Davis carded a 78, Matt Latanzi shot a 79, and Matthew Remorova shot a 93.
"They definitely deserved to be there," said Rome High golf coach Keeth Jones. "There were a lot of good teams. To be at the state tournament and all it involved was great for the kids and the program."