GIRLS SOCCER: Cedartown is working hard in preparation for the upcoming season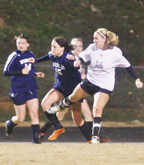 The regular season may not officially begin until next week, but anyone who has observed a Cedartown High School Lady Bulldogs soccer practice would never know. That's because the Lady Bulldogs are practicing just as hard right now as if it were the home stretch of a playoff run.
"We have been busy getting ready," head coach Sam Noland said. "We have a group of experienced seniors who are expected to give us a lot of leadership this season."
Those senior leaders this season are Genesis Bahena, Jessica Cordero, Susan Flores, Devin Mueller, Maribel Nunez, Elsy Sibrian, Abi Trejo and Breanna Wallace.
Other members of the Lady Bulldogs team this season are Karla Cruz, Mikayla Owens, Brooke Gravely, Tania Uriostigui, Adilene Campos, Karimy Cornejo, Emma Short, Anneliz Almonte, Itzel Bautista and Nancy Cruz.
Pending the conclusion of the girls basketball season, players Morgan Gore, Emma McElwee and Madison Odom are expected to join the squad.
Noland noted that the Lady Bulldogs have taken very little time off in preparation for the upcoming season.
"We have been practicing most every day the past two weeks when we weren't avoiding storms," Noland said.
The Lady Bulldogs open the season on Tuesday, Feb. 12 at Darlington. The non-region season opener will be at 5 p.m. On Friday, Feb. 12 the Lady Bulldogs will play at Woodland at 5:30 p.m. The first home game will be on Tuesday, Feb. 19 against Rome at 5:30 p.m.
"We would like to encourage everybody in the community to come and support us this season," Noland said.