GIRLS SOCCER: Caldwell scores four goals to lead Lady Jackets over Model, 8-0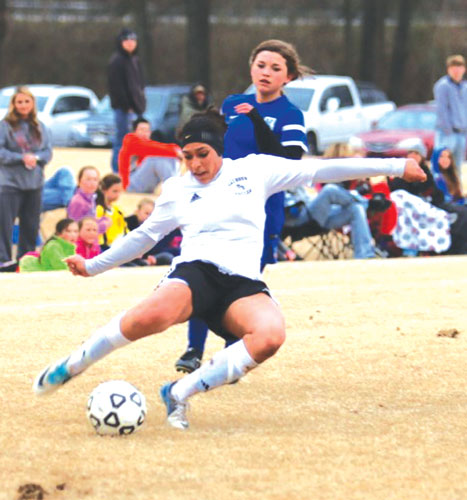 Led by a huge day from senior Allie Caldwell, the Calhoun girls soccer team rolled past Model on Tuesday at home and remained undefeated in the early season.
The Lady Jackets (4-0, 4-0) scored four goals in each half to earn an 8-0 victory and continue their shutout streak for all four games thus far this season. Caldwell was the biggest offensive threat for Calhoun on Tuesday, scoring four goals in the win.
"All four years she's played, Allie has had the talent," said Calhoun coach Randy Rice. "She's worked through some health issues, but she's always ready to put one in the net. She's hungry for goals on the field."
Adding to the big offensive day with goals were Maricruz Ortiz, Leah Prather, Carter Baggett and MeriKathryn Black. Prather also had two assists, and Black, Ortiz, Elizabeth Orellana, Katerra Reynolds and Heather Robinson each had one.
The game was completely dominated by the Lady Jackets as they allowed Model only one real chance at a goal in the second half. Halley Cronon and Chloe Rice combined for the shutout in goal.
Calhoun held possession for almost the entire game and created several offensive chances.
"We were concerned at first because Model has some athletes out there, and their team is improved from last season," said Rice. "We were worried about them running on us and using their speed, but we were able to control the outside and wings. When you control that, good things are going to happen."
In the win, Rice said he was able to play a lot of girls and showcase the depth this team has — something his team hasn't had a lot of in the past few years.
"It is a welcomed luxury," said Rice. "We haven't had as many girls that play and as many that can play so many different positions. All of them want to play, and right now, we're trying to find the best places for them. That's a wonderful thing to have.
"We've got so many good players starting and on the bench. When we go to our reserves, there's little or no drop off."
The Lady Jackets have now outscored their opponents 27-0, including a 1-0 forfeit win at Morris Innovative last week. Rice said despite the impressive start, his team still has some areas to improve in.
"I'm not that thrilled about our ball movement so far," said Rice. "We're a little predictable with our passes and passing to pressure.
"And I know it's hard to score on corners, but we've got to improve on that, especially with the number of corners we're getting in each game."
The Lady Jackets are back on the road on Thursday at Dade County.