Girls basketball: Stewart becomes Darlington's scoring leader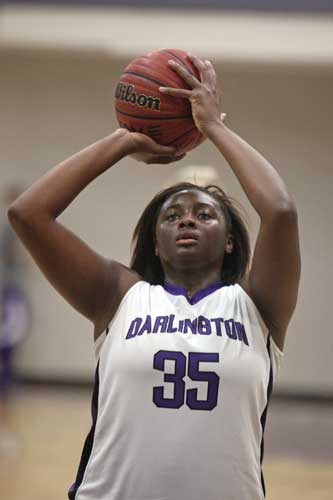 Darlington senior Terar Stewart topped off the Lady Tigers' 53-14 Region 6-A/A win over Mt. Zion with yet another milestone on Tuesday evening at the Huffman Center.
And this one was her biggest yet.
Stewart broke the Darlington girls record for most career points when she scored her 17 th point of the game in the fourth quarter.
The breakthrough basket came amid cheers from her teammates, who knew exactly what the basket meant for Stewart.
The basket put her at 1,625 points, one ahead of the previous record set by Caroline (Peek) Blaylock at 1,624 points.
"It feels good (to beat the record), but once again I'm coming back to the team, because I wouldn't be able to do it without them," said Stewart. "I'm probably going to keep saying that every time."
Stewart's senior year has been laden with other basketball milestones, including collecting 1,000 career rebounds and hitting the 1,500 career points scored mark.
"It's making my senior year all the more better to be reaching all these milestones," said Stewart.
"It makes it even more worthwhile."
But Stewart isn't the only one feeling good about the momentous achievement.
Darlington coach Josh Hembree took pride in his player's accomplishment, too.
"It's made my job real easy for four years to know that she's down there anchoring the post," said Hembree.
"Our girls know that they can throw the ball to her, and she's going to catch it, and more times than not she's going to score with it.
"She's been a special player to coach for four years."
During Tuesday's game, the Lady Tigers held Mt. Zion to seven points or less per quarter, and to just one field goal in the second, third and fourth quarters.
Stewart led the scoring with her 17 points, while Maggie Beth Atha posted 10.
The win boosts the Lady Tigers' region record to 7-1.
Darlington will host Excel Christian on Friday for their last regular season home game of the season.