Girls basketball: Lady Tigers earn road victory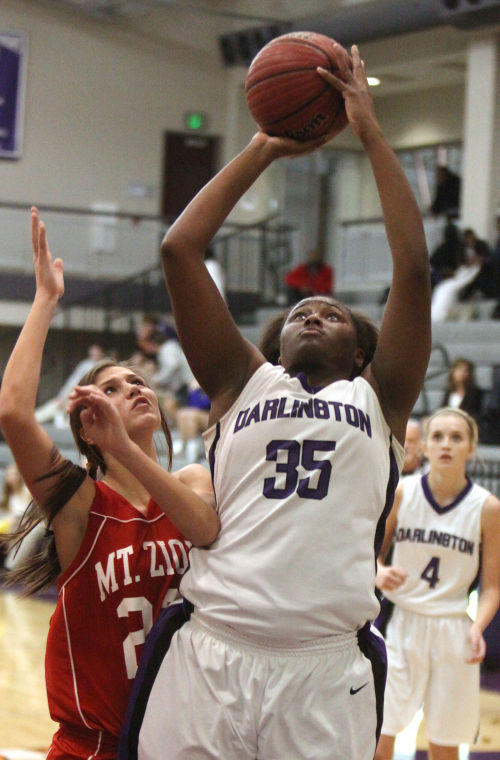 Darlington coach Josh Hembree wasn't just proud of his team for winning on Friday.
It was the manner in which the Lady Tigers won that pleased Hembree the most.
Despite being plagued by serious foul trouble, the Lady Tigers perseverved for an impressive road win, downing Gordon Lee 74-71 in the regular-season finale for both teams.
The win enabled Darlington (18-6, 10-2) to gain the No. 2 seed for next week's Region 6-A tournament. The victory also allowed the Lady Tigers to gain some revenge on Gordon Lee after losing to the Lady Trojans at the Huffman Center earlier this season.
Terar Stewart finished with a team-high 22 points in Friday's win, and Maggie Beth Atha added 15.
Three other Lady Tigers also reached double figures: Sarah Manning had 12 points, and Bailey Brock and Rachel Simon added 10 each.
"We faced some serious adversity tonight, with three starters having three fouls (each) in the first half," said Hembree. "But the girls refrained from fouling out, and I am really proud of their effort. This was a big win for our team."
The Darlington boys lost to Gordon Lee, 60-57.
GIRLS: Darlington 74, Gordon Lee 71
DARLINGTON (74)
Bailey Brock 10, Evans 4, Maggie Beth Atha 15, Sarah Manning 12, Hunt 2, Rachel Simon 10, Terar Stewart 22.
GORDON LEE (71)
Chambers 10, Blevins 26, Burger 17, Hartline 2, Holland 2, K. Lee 11.
Darlington 19 19 16 20 — 74
Gordon Lee 13 21 13 21 — 71
3-Pointers — Darlington 4 (Brock 1, Atha 1, Simon 2); Gordon Lee 8 (Chambers 3, Blevins 3, Burger 2). Free throws — Darlington 13-16; Gordon Lee 13-15. Records — Darlington 18-6, 10-2; Gordon Lee 19-6, 9-3.