GIRLS BASKETBALL: Lady Phoenix earn Region 5-AAA title with big win over Cartersville in championship game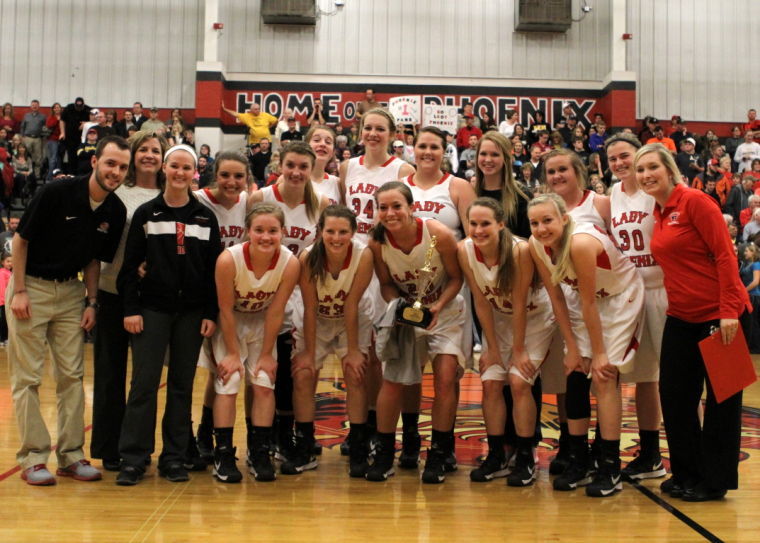 The Sonoraville Lady Phoenix have been the queens of Region 5-AAA all season.
On Saturday night, they officially received their crown.
Thanks to four scorers in double figures and an offensive explosion in the second half, Sonoraville rolled to a 77-35 win over Cartersville in the Region 5-AAA Championship Game at home.
The Lady Phoenix (26-1) led just 26-18 at the half, but outscored Cartersville 51-17 in the third and fourth quarters combined to run away with the title.
Sonoraville coach Stephanie Caudell said she is so proud of not only the team's accomplishment of a region championship, but also the way her team has stayed together all season.
"This group, especially these seniors, have built every year on what we've done and have worked up to this point," said Caudell. "This team has the best team chemistry I've ever been around. They never argue or get down on each other, and that makes my job easy."
Carrie Cheeks led the way for Sonoraville with 21 points, including 15 in the explosive second half. Seniors Jennilee Gentry, Payton Smith and Alisha Bridges were all in double figures with 14, 13 and 10 points, respectively.
The Lady Phoenix, who are in the state tournament for the first time in program history, tried to break away from Cartersville early for their normal fast start, but the Lady Canes stuck closely as they made it hard on the Sonoraville offense in the first half. Sonoraville led by only eight at the half.
"They guarded us well in the first half and gave us a lot of trouble," said Caudell. "We stayed with it and battled foul trouble and ended up having the big second half.
"That and the first half we played at Cartersville were by far the best halves we've played all year. I told them in the locker room at the half that we needed to come out and get the lead into double figures and take them out of the game. We came out and stopped turning the ball over and finished baskets."
The Lady Phoenix will now open the Class AAA Tournament on Tuesday with a matchup against either Oconee County or Hart County. They will be assured of hosting the first two rounds, assuming, of course, they advance past the first round.
It's a pretty nice situation for a team that's never made the state tournament before.
"It's nice to play at home," said Caudell. "We've played well at home all year, and to be here for the first round and not have to make a long road trip helps us be more comfortable. And to play in front of our crowd will help us too."
The Lady Phoenix could possibly have two players back healthy for the first round. They've played without starting guard Kristi Vaughn for the last two weeks as she's been out with a wrist injury, and reserve guard Tiffany Vowell didn't play in the region tournament as she suffered an ankle injury.