Girls Basketball: Lady Phoenix clinch first state tourney berth, region No. 1 seed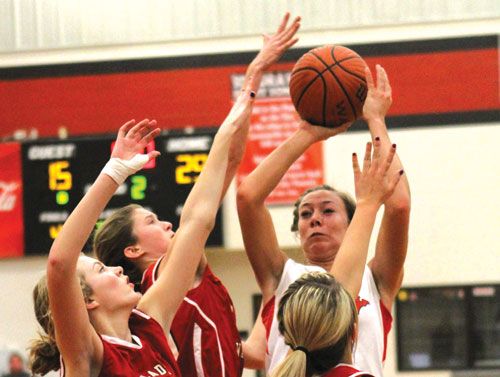 The Sonoraville Lady Phoenix have now booked a ticket somewhere no other previous basketball team at the school has ever gone — the State Tournament.
The Lady Phoenix locked down the bid with a 58-36 win over LFO on Monday night at home, and in the process, booked a few more home games as well. The win was also huge because it assured Sonoraville of the No. 1 seed in the Region 5-AAA Tournament and with that, the right to host the tournament.
"This was big for us for several reason, but locking down the state tourney bid is the biggest," said Sonoraville coach Stephanie Caudell. "The No. 1 seed is big to. Those were two big goals, but we've still got goals to accomplish and we want to finish the right way."
Carrie Cheeks led the way with 16 points for Sonoraville (22-1, 12-0). Payton Smith also had another stat-sheet filling night with 12 points and several steals.
The game was tight after the first quarter with the Lady Phoenix leading just 13-10, but the second quarter was a different story. Sonoraville opened up the lead by outscoring LFO 20-5 in the period, including a 9-0 run to start it.
"We really had a hard time making shots in the first quarter, but the press started to be effective for a stretch there in the second quarter," said Caudell.
"Payton got a few steals and a few easy baskets, and that's what it took to get us going."
Tiffany Vowell and Heather Vess each added five points for the Lady Phoenix, who were seeing their first action since last Tuesday against North Murray. The game against LFO was originally supposed to be played on Friday but was postponed due to storm damage in the area after Wednesday's tornado that ravaged parts of the Sonoraville area.
The team not only hadn't played since last Tuesday, but also hadn't practiced either as Sonoraville's gym has been being used in the clean-up and assistance efforts in the community.
"I didn't expect us to play great because we've been off schedule with the gym being used and school being out, but I was real proud of the girls," said Caudell. "When something like this happens, it really puts everything into perspective, and I was proud of all the girls on the team that got out there and helped every day."
The win kept Sonoraville's momentum going as they've now won 12 straight games.
The Lady Phoenix visit Adairsville on Tuesday.
BOX
Sonoraville girls 58, LFO 36
LFO (36)
Crawford 4, Mabry 6, Lewis 1, Franklin 6, Oliver 4, Clemmons 7, Harris 8.
SONORAVILLE (58)
Vowell 5, Wells 2, Schueman 3, Bridges 1, Crider 2, Smith 12, B. Cheeks 4, Ponder 3, Vess 5, Baumgardner 1, Gentry 4, C. Cheeks 16.
LFO    10    5    5    16    —    36
Sonoraville    13    20    18    7    —    58
3-Pointers — LFO 2 (Franklin 1, Harris 1); Sonoraville 2 (Vowell 1, Vess 1). Free throws — LFO 6-19; Sonoraville 18-38. Records — Sonoraville 22-1, 12-0.