GIRLS BASKETBALL: Lady Jackets roll to win in new gym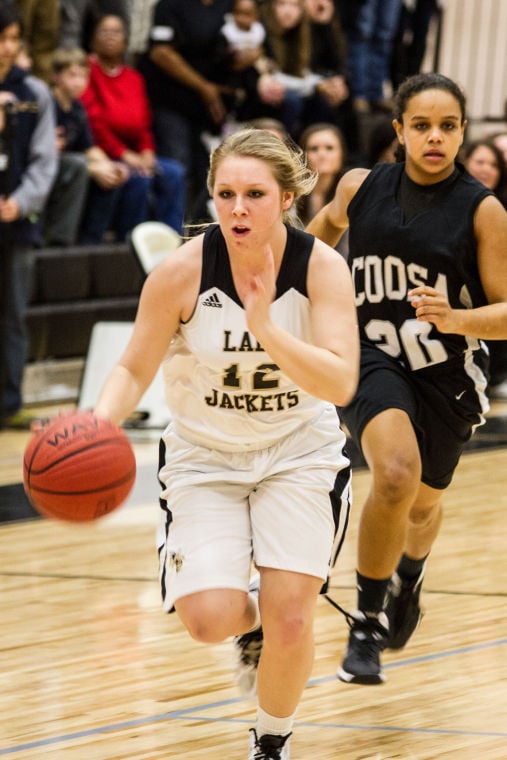 CALHOUN — Kyleigh Carney will go down in the history books as the first player to score a basket in Calhoun's new gym in a varsity game.
But there would be a lot more baskets after that one as the Lady Jackets rolled to a 59-20 win over Coosa on opening night in the new Calhoun gym.
"I liked that we got out there and played well tonight, and a large part of that was because of our defense," said Calhoun coach Jerry Pruett. "It helped get us going with some steals and easy scores.
"You always worry as a coach when you have a night like this, opening a new gym, about the hype and getting caught up in it and maybe playing a little tight. But once we got into the game and started playing the kind of defense we played, we relaxed and did what we were supposed to do."
Calhoun (13-4, 6-2) led just 13-9 after the first quarter, but then their defense took control. They turned up the pressure on Coosa (1-11, 1-6), causing several turnovers, which resulted in easy baskets on the other end. Calhoun outscored the Lady 46-11 over the final three quarters.
Ashlyn Barnes led Calhoun in scoring with 11 points, all coming in the fourth quarter. Carney and Sydnie Parker each finished with 10, and Jana Johns and Calli Davis scored seven apiece. Ten different Lady Jackets scored in the contest.
Pruett said the way his defense played on Friday is part of the recipe for how he wants his team to perform in order to have success.
"We have to play defense like that, pressure teams and try to get easy shots on the other end because we don't have a post game where we can throw it inside and get points," said Pruett. "That's what we need to do, create turnovers and make it a fast-paced game."
It was a big night as Calhoun celebrated the new gym opening by having several former players honored before the game. Pruett said he was pleased with how his team went out and started fast to get all the nerves out of the way.
"We got off to a 5-0 start, and I think everyone forgot about trying to be the first person to do everything in the new gym," said Pruett. "Then after struggling a little at the end of the first quarter, we started being patient and got in rhythm. And in the second half we came out and put the game out of reach."
Heather Faust had nine points to lead the Lady Eagles.
The win for Calhoun was a welcome sight after a tough loss on the road on Wednesday at Armuchee. Pruett said bouncing back and taking care of business in a game his team should've won showed a lot of maturity.
Calhoun is back on the road Tuesday, visiting Model; Coosa visits Pepperell.