Girls basketball: Lady Jackets hold off Armuchee to cap undefeated region run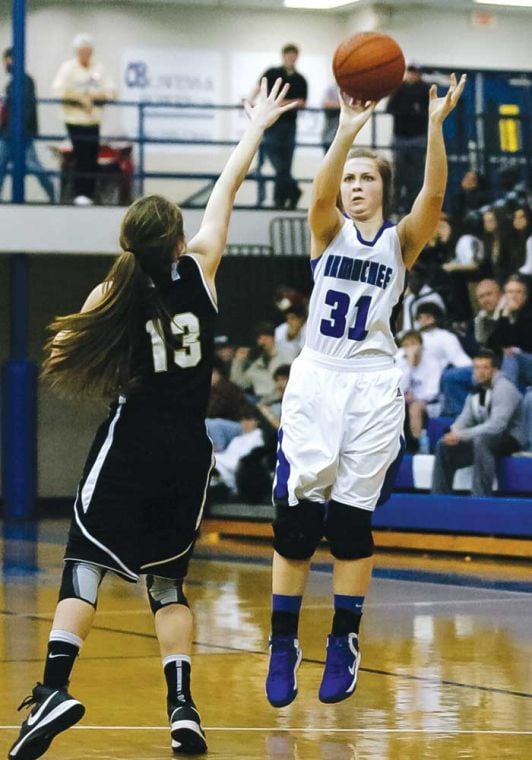 By the time Friday night's intensity-filled game at Armuchee came to a close, two factors about next week's region tournament had been firmly established.
The Armuchee Lady Indians are going to be a team to watch — and the Calhoun Lady Jackets are the team to beat.
Fueled by 12 points apiece from the Palmer sisters, Taylor and Molly, the Lady Jackets completed an undefeated run through the region by fighting off Armuchee, 44-39, on the final night of the regular season.
Armuchee's Mary Bess Skinner scored a game-high 14 points, including knocking down three 3-pointers in the final four minutes. But her strong showing wasn't quite for the Lady Indians, who did not attempt a single free throw in the loss.
Calhoun — which had already assured itself of the top seed for the 7-AA tourney and a berth in the state tournament — will carry a 21-game winning streak into the tournament.
"It's real special (to go undefeated in 7-AA)," said Calhoun coach Jerry Pruett, "especially when you consider the quality of teams in this region (like) Model, Dade, Armuchee … everybody has been pretty solid. Every night, you've got to come with your best."
Calhoun (22-1, 14-0) trailed by seven points early in the second half of Friday's game but turned the contest around with an 18-4 run that covered the final six minutes of the third quarter and the first four minutes of the fourth.
The Lady Jackets then held off a late Armuchee charge to protect their perfect region record and extend their winning streak.
Armuchee has also been on a roll for the past few weeks — winning six of its previous eight region games — and the Lady Indians came into Friday's game with hopes of punuacting thier Senior Night by pulling off an upset.
And although they weren't able to accomplish that mission, the competitive nature of the game underscored the notion that Armuchee has the potential to make a postseason run.
The Lady Indians will be the No. 4 seed at the tournament, and will get a first-round bye. They will get into tourney play on Wednesday against the winner of Pepperell-Chattooga game at Georgia Highlands.
"This definitely didn't break (our momentum)," said Skinner about the loss.
"This pumps us up (about the tournament) even though the outcome wasn't what we wanted."
Skinner was one of four Armuchee seniors — along with Heather Shore, Karli Boozer and Natalie Shoemaker — who were recognized on Friday.
All four were in the starting lineup, and they each made contributions, some of which showed in the scorebook and some that didn't.
Shore finished with eight points and Boozer had four.
Shoemaker was knocked to the floor twice in the first quarter, and Boozer was also in the middle of several loose-ball pile-ups. It was a typical showing for both players, who are emotional leaders for the Lady Indians.
"Tonight was a special night," said Armuchee coach Michelle Arp. "We (honored) four seniors who've put in the time and effort … The shots didn't fall our way, but we competed."
The teams were never separated by more than four points in the first half, which featured four ties and six lead changes before the Lady Indians carried a 21-19 lead into the locker room.
Armuchee then opened the second half with five quick points — a 3-pointer by Skinner and layup by Boozer — to take a 26-19 lead.
But Calhoun closed the period with eight straight points to take a 27-26 lead. Armuchee briefly regained the lead on a layup by Boozer early in the fourth quarter, but Calhoun again answered, this time with a 9-0 run. It has highlighted by Carly Curtis' 3-pointer to take a 38-30 lead with 4:28 to play.
Skinner tried to bring Armuchee back by connecting on three 3-pointers, the last of which cut Calhoun's lead to 40-39 with 1:18 to go.
But Curtis answered with a basket and Taylor Palmer added two free throws to seal it for Calhoun.
girls: Calhoun 44, Armuchee 39
CALHOUN (44)
Molly Palmer 12, Taylor Palmer 12, Carly Curtis 11, Wright 4, Roe 1, Parker 5.
ARMUCHEE (39)
C. Tibbetts 2, Burkett 2, Nix 9, Shore 8, Boozer 4, Mary Bess Skinner 14.
Calhoun 11 8 8 17 — 44
Armuchee 15 6 5 13 — 39
3-Pointers — Calhoun 1 (Curtis 1); Armuchee 7 (Nix 3, Skinner 4). Free throws — Calhoun 7-13; Armuchee 0-0. Records — Calhoun 22-1, 14-0; Armuchee 13-11, 9-5.