Girls basketball: Lady Jackets extend streak, season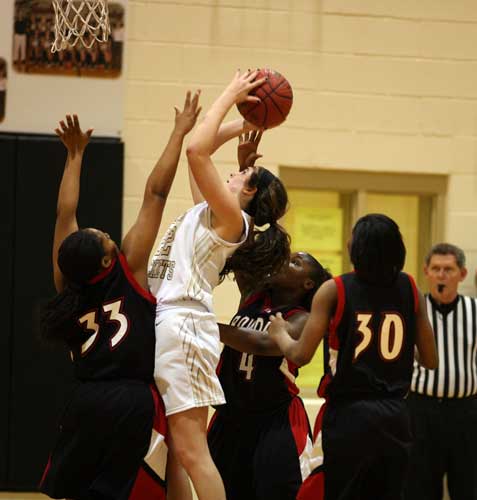 CALHOUN — The Calhoun Lady Yellow Jackets' run through the state tourney so far has been about as smooth as it can get.
After coasting past their first-round opponent earlier this week, the Lady Jackets put together another big win by downing Bowdon, 81-48, to advance to the Elite Eight.
Calhoun will host the top-ranked and top-seeded Wesleyan Lady Wildcats next week for their third-round game.
With the win, the Lady Jackets made history, as this marks the first time that the Calhoun girls' program has ever advanced to the Elite Eight in the state tournament.
"This feels great," said Calhoun coach Jerry Pruett. "It's something we've never done before. I'm glad for the girls, because they've worked hard," he added.
"They deserve this, so it's great to be able to get there and go to the Elite Eight."
The Lady Jackets made advancing in the tournament look easy by outscoring the Lady Bulldogs, 29-8, in the first quarter, fueled by a 10-0 run to start the game.
Senior Taylor Palmer finished with a game-high 22 points while helping Calhoun extend its winning streak to 24 games.
The big early-game run was fueled by five Cal-houn 3-pointers.
Bree Walraven hit three in a row and Carly Curtis hit two in the first quarter.
While Bowden found a little more rhythm on offense in the remaining three quarters, the Lady Jackets didn't slow theirs down one bit as they rolled to the 33-point win.
"I know we have a great team, and we shot it really well tonight. We got off to it and knocked down some 3's, which we haven't been doing in a while," said Pruett.
The offensive effort resulted in four Lady Jackets posting double figures on the night.
In addition to Palmer's 22, Curtis had 17, Walraven posted 11 and Molly Palmer finished with 10.
For Bowden, Sydnie Boddie had 13 points and JaCole Stephens had 11.
Calhoun will now focus on preparing for what could be their toughest challenge all season.
Their Elite Eight opponent, Wesleyan, has won eight state titles in the last nine years and won four Class A titles in a row, 2009-2012, before moving back up to Class AA this year.
Wesleyan beat Armuchee, 85-29, on Tuesday night.
"We know who we've got coming up," said Pruett. "We have to find some way to get in there and give them a run for their money and hopefully sneak out with a win."
"For us, it's just going to be being able to do the things that we can do and play within ourselves. We can't get out of what we do well."
BOX SCORE:
GIRLS: Calhoun 81,
Bowdon 48
BOWDON (48)
Sydnie Boddie 13, JaCole Stephens 11, Brewer 6, Brock 5, Maze 4, Strickland 3, Philips, Buchanon 2, Brown 1.
CALHOUN (81)
Taylor Palmer 22, Carly Curtis 17, Bree Walraven 11, Molly Palmer 10, Parker 9, Davis 7, Carney 3, Roe 2.
Bowden    8    14    13    13    —    48
Calhoun    29    17    13    22    —    81
3-Pointers — Bowdon 7 (Boddie 3, Stephens 1, Brewer 1, Brock 1, Strickland 1); Calhoun 7 (Curtis 3, Walraven 3, Carney 1). Free throws — Bowdon 13-20; Calhoun 16-22. Records — Bowdon 16-10, Calhoun 28-1.