Girls basketball: Lady Indians down Coosa to improve to 6-2 in past eight games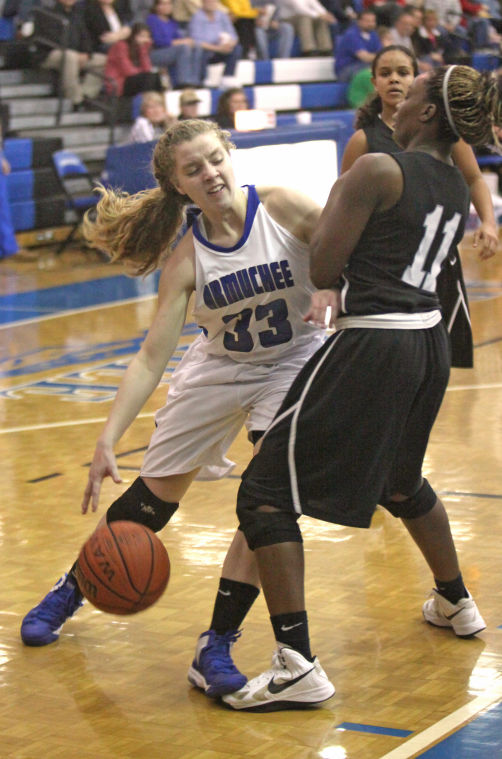 When the Region 7-AA tournament begins next week, two of the teams from Floyd County will enter the event with contrasting mindsets.
The Armuchee girls are hoping the postseason will simply be a continuation of the success they've had in the final weeks of the regular season.
The Coosa girls are looking at the tournament as a chance to start fresh.
Armuchee — which downed Coosa 55-21 on Tuesday night — has been on a tear since late December. The Lady Indians have won nine of their past 12 games, including six of their past eight region games, to improve to 13-10 overall and 9-4 in 7-AA as they head into Friday's regular-season finale against Calhoun.
Armuchee senior Heather Shore said the Lady Indians, who are vying with Dade County for the tournament's No. 3 seed, will carry plenty of confidence into the postseason.
"This is our time to shine," said Shore. "We are going to play as hard as we can, and not let it matter that we are the underdogs (as the No. 3 or No. 4 seed)."
Coosa, meanwhile, is hoping to re-write the script to their season by making a Cinderella run in the tournament after struggling in Region 7-AA play.
The Lady Eagles (5-17, 2-10) will be either the No. 6 or 7 seed, and Coosa's Mary Ellen Masters said the tourney is open to possibilities.
"We don't know what to expect," said Masters. "We have a young team and we are working hard. … We all just need to pull together as a team and support each other."
The Lady Eagles have endured a late-season shooting slump, and those struggles continued during Tuesday's game.
Coosa was limited to one point in the first quarter and four in the second. The Lady Eagles only field goal of the first half was a 3-pointer by freshman Perry Shumate in the opening minute of the second quarter.
On the other end of the floor, Armuchee spread the scoring around, with eight different players contributing points before halftime. Two other Lady Indians added their name to the list in the second half.
JessAnn Nix finished with a team-high 10 points, Shore added nine and Mary Bess Skinner had eight.
Those three players combined for 14 points in the first quarter as the Lady Indians raced out to a 16-1 lead and then steadily added to the advantage from there.
Senior Karli Boozer led the charge in the second quarter, scoring seven points during the period. Skinner chipped in with her second 3-pointer of the night and freshman Rebekah Hammond added a jumper to help Armuchee extend the lead to 36-5 at the half.
Armuchee then completed the win with a slower paced second half, during which the Lady Indians outscored Coosa, 19-16.
Junior Jordan Burkett contributed a pair of baskets in the third quarter and Nix added her second 3 of the night.
Armuchee went to a lineup of mostly young players in the fourth quarter, with freshman Hanna Johnson scoring five points in the period and Mattie Chapman adding a bucket.
"We were able to work on some different things tonight," said Armuchee coach Michelle Arp. "We worked on several different defenses … and everybody that went in tonight kept playing hard."
Armuchee is tied with Dade County in third place in the region standings. However, Dade County owns the tie-breaker after sweeping the Lady Indians this season.
"We just want to finish as high as can," said Arp. "We just to continue to build and come together."
Friday's game will be Senior Night at Armuchee and the Lady Indians are hoping to spoil Calhoun's attempt to complete an undefeated run through the region.
Calhoun clinched the region's regular-season title with a win over Model on Friday.
girls: Armuchee 55, Coosa 21
COOSA (21)
Collins 2, Shumate 8, Faust 3, McClain 2, Masters 2, Lance 4.
ARMUCHEE (55)
C. Tibbetts 2, Johnson 5, Burkett 6, JessAnn Nix 10, Shore 9, Chapman 2, Shoemaker 2, Boozer 7, Skinner 8, Hammond 4.
Coosa 1 4 11 5 — 21
Armuchee 16 20 12 7 — 55
3-Pointers — Coosa 3 (Shumate 2, Faust 1); Armuchee 4 (Nix 2, Skinner 2). Free throws — Coosa 2-6; Armuchee 9-15. Records — Coosa 2-10, 5-17; Armuchee 9-4, 13-10.
(note: Coosa hosts Dade County on Friday. Armuchee hosts Calhoun on Friday, senior night for Armuchee.)