GIRLS BASKETBALL: Gordon Lee takes down Randolph-Clay for Class A crown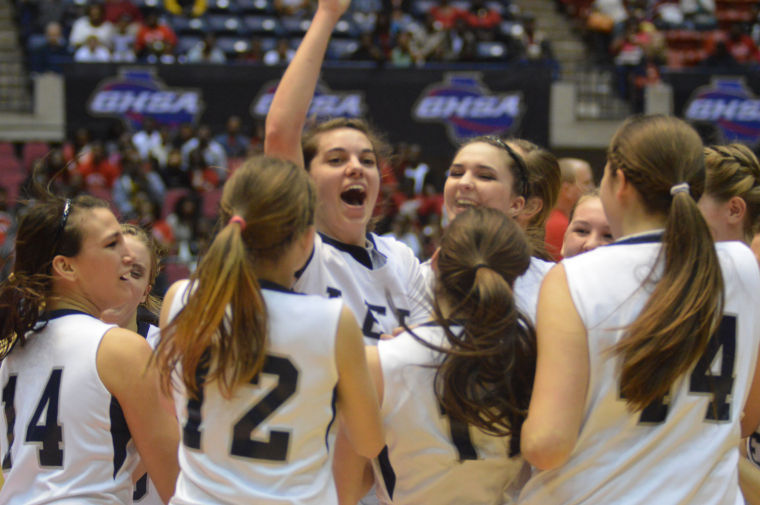 MACON - A history-making season for Gordon Lee High School athletics got a little more historic on Thursday afternoon.
The sixth-seeded Lady Trojans, who led by 19 points entering the fourth quarter, fended off a furious Randolph-Clay fourth-quarter rally and beat the top-seeded Lady Red Devils, 61-56, to win the Class A girls' public school state championship at the Macon Coliseum.
It is the first-ever state high school basketball title for the Chickamauga school and the fourth overall state title for Gordon Lee so far in this school year, adding to a list that already includes a state softball title and two state wrestling titles.
"I'm overwhelmed," senior guard Kassidy Blevins said just moments after hoisting the championship trophy. "It's so surreal right now, but we're so happy. This is what we've worked so hard all year for. Even back when we started all of those summer camps, winning state was our goal, and we couldn't be happier to finally achieve that goal. It's just a blessing from God."
Many around the state doubted that Gordon Lee would be able to handle the length and athleticism the Lady Red Devils (29-3), who entered the matchup on a 19-game winning streak and who had won their previous three state tournament games by an average of 28.7 points.
However, the Lady Trojans (25-7) used the words as motivation. They won the battle on the boards, 46-44, and held a Randolph-Clay team that had shot a staggering 60 percent from the field this season to just 34.8 percent shooting in the finals.
"With them being so athletic, we knew we'd have to pack it in good and tight on defense," explained Gordon Lee assistant coach Lee Bohannon. "Looking at them on film, we felt they weren't as consistent when they had to shoot outside jumpers, so we really had to sell (the game plan) to our girls because they like spreading out and playing defense in everyone's face. I thought we boxed out great in the first half. (Randolph-Clay) really crashed the boards in the second half, but for the most part, I thought we did a good job of sticking to the plan."
The game started in bizarre fashion as the normally red and black-clad Lady Red Devils were forced to wear purple-and-gold uniforms borrowed from Jones County High School after the team brought the wrong set of the uniforms to Macon.
Things got even stranger for the Randolph-Clay faithful as they watched their team give up an early 10-2 run, which led to a 17-8 advantage for Gordon Lee after the first quarter. Blevins and Katie Barger combined to score all of the Lady Trojans' points in a 13-4 run over the final 2:30 of the first half as Gordon Lee pushed the lead to 36-19 before sprinting to the locker room while being cheered on by a large contingent of Gordon Lee students that had made the long drive to Macon.
Randolph-Clay scored the first six points of the second half, but another 10-2 Gordon Lee run stretched the lead out to 19 points, and the state title seemed all but certain as the Lady Trojans carried a 50-31 lead into the final eight minutes.
But the Lady Red Devils, who outscored Wilkinson County 23-3 in the fourth quarter in their semifinal win last Friday, finally got going in the fourth. They opened the period on a 12-2 run to chop the lead to nine before Blevins and Katelyn Lee stopped the bleeding with cruical back-to-back buckets to get the lead back to double digits with just over three minutes to play.
Randolph-Clay would get as close as five points in the waning seconds, but the Lady Trojans, who didn't attempt a single free throw until the game's final minute, made 5 of 7 attempts in the last 48 seconds to seal the historic win.
"A lot of people doubted us today, and some have doubted us the entire (state) tournament," Bohannon added. "But our girls are super basketball players and they just never quit. They have great resolve and they played their hearts out tonight."
Blevins, the Samford University signee, had 21 points, eight rebounds, four steals, and three assists in her final game at Gordon Lee. Barger had 14 points, all in the first half, to go with five rebounds, while Lee added eight points, 12 rebounds, and a pair of blocks.
Blevins pointed to her team's fast start as a big key to the win.
"During the entire (state) playoffs we've been able to really jump out there at the beginning of games, and that just comes from the drive and determination we have to win," she said. "We knew from the very beginning of this game what it was going to take, and I've never been prouder of the girls in our locker room.
"There's no denying, (Randolph-Clay) is a great team, and to beat a great team takes a lot. We played hard and we played unselfishly. Offensively and defensively, we just played a great game and it just feels awesome."
Kaneika Washington scored 19 of her game-high 26 points in the second half for Randolph-Clay. Freshman post Kobi Thornton added 13 points, 14 rebounds, and six blocks, while Adriana Blackmon also finished with 13 points.
Gordon Lee head coach Lester Galyon said that while he was excited to win a state title as a coach, he was more excited for his players get their moment in the spotlight.
"I'm thrilled, but I'm so happy for them," he said. "We've seen other (sports) teams (at Gordon Lee) win championships and hang banners. We've been good (at basketball) in the past, but just not good enough. Tonight, we finally reached that level where we're good enough."