Girls basketball: Darlington girls easily advance into Elite Eight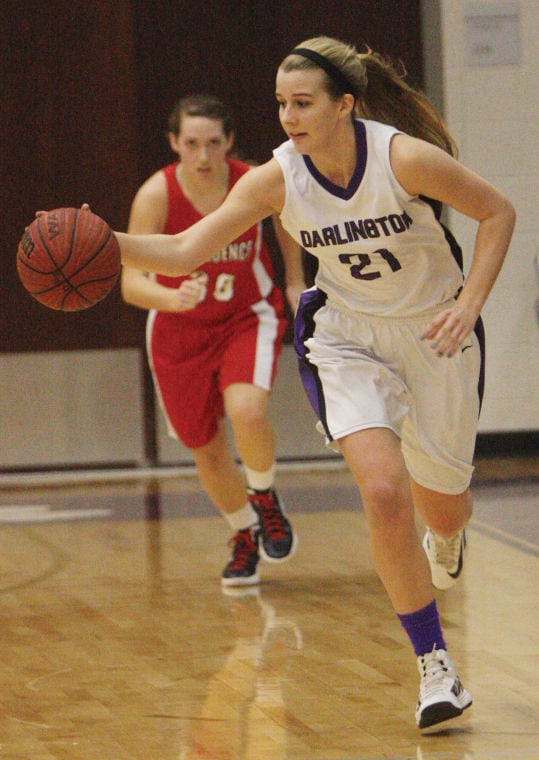 Based on what took place Friday night at the Huffman Center, the Darlington girls have plenty of reasons to feel good about their future.
And that's not just in reference to next season, but next week.
Hosting Providence Christian in the first round of the Class A private school state tournament, Darlington received strong contributions from a collection of younger players to roll to a 62-27 victory and secure a spot in the Elite Eight for the second straight season.
Darlington now advances to face fellow Region 6-A member St. Francis — who beat the Lady Tigers, 71-57, in last week's 6-A tourney semifinals — on Tuesday night on the road in the quarterfinals.
Junior Maggie Beth Atha was among the main catalysts during Friday's win, scoring a game-high 20 points for the Lady Tigers (21-7), who used a 21-0 run in the first half and a 16-0 spurt in the third quarter to fuel the win.
Senior Jane Campbell had a strong all-around game, finishing with 10 steals and 10 rebounds to go along with six points.
But it was the "non-seniors" who carried the bulk of the scoring load.
In addition to Atha's huge effort, freshman Keara Evans added 12 points by hitting 4-of-7 shots from 3-point range, and sophomore Rachel Simon added eight points and four rebounds. Junior Sarah Manning had eight points and eight rebounds.
All told, 50 of the Lady Tigers' 62 points came from players who are juniors or younger — a stat that reflects Darlington's depth and the Lady Tigers' commitment to teamwork.
It's a stat that bodes well for next season, as most (if not all) the players will be returning to the team next fall. More importantly, it shows that Darlington has more than enough depth to make a run at a state championship this month.
"It's just about having confidence that your teammate has your back," said Atha, "and that you have theirs."
"We work each other every single day at practice," said Atha, "and we don't focus on certain people. Everyone knows their role."
Darlington played Friday's game without senior star Bailey Brock, who was attending an Academic Scholarship Competition at the University of Alabama.
"We missed Bailey tonight," said Darlington coach Josh Hembree, "but she is pursuing something that would be a huge accomplishment, and we fully support her in that.
"We told the players before the game that this was a chance for them to step up and fill that void," said Hembree, "and we had some girls who came in and picked up the slack."
Providence Christian, coached by former Shorter star Vanita (Riddle) McGough, traded baskets with Darlington in the opening minutes of the first quarter, and the game was tied 10-10 with 2:52 to play in the period.
Then Darlington went to work.
Using their press to create turnovers and build the tempo, the Lady Tigers reeled off 21 unanswered points.
Atha scored eight points during the surge, including a long 3-pointer. Evans also chipped in with the second of her four 3-pointers, and Darlington eventually carried a 33-13 lead to the locker room.
Providence Christian opened the second half with a 7-0 spurt to trim Darlington's lead to 33-20, but the Lady Tigers scored the final 17 points of the third quarter and the first two of the fourth to build a 52-20 lead.
Evans hit two 3s during the run, and Atha added a pair of layups and a 3-pointer as Darlington secured the victory.
Following the win, Hembree glanced at the stat sheet — and he liked what he saw.
"We shot 70 percent from the free throw line … 50 percent from 3-point range and outrebounded them by 13 — that's pretty good," he said.
Darlington senior Terar Stewart, the school's all-time leading female scorer, endured a rare quiet night on the offensive end, scoring six points.
BOX SCORE:
GIRLS: Darlington 62,
Providence Christian 27
PROVIDENCE CHRISTIAN (27)
Gold 6, Kowalewics 9, Katie Scott 10, Petmecky 2.
DARLINGTON (62)
Stewart 6, Maggie Beth Atha 20, Manning 8, Simon 8, Campbell 6, Keara Evans 12, Edge 2.
Providence    10    3    9    5    —    27
Darlington    19    14    17    12    —    62
3-Pointers — Providence Christian 2 (Kowalewics 1, Scott 1); Darlington 7 (Atha 3, Evans 4). Free throws — Providence Christian 7-17; Darlington 7-10. Records —Providence Christian 17-11, Darlington 21-7.