GIRLS BASKETBALL: Calhoun's special season comes to an end with loss to Wesleyan in Elite Eight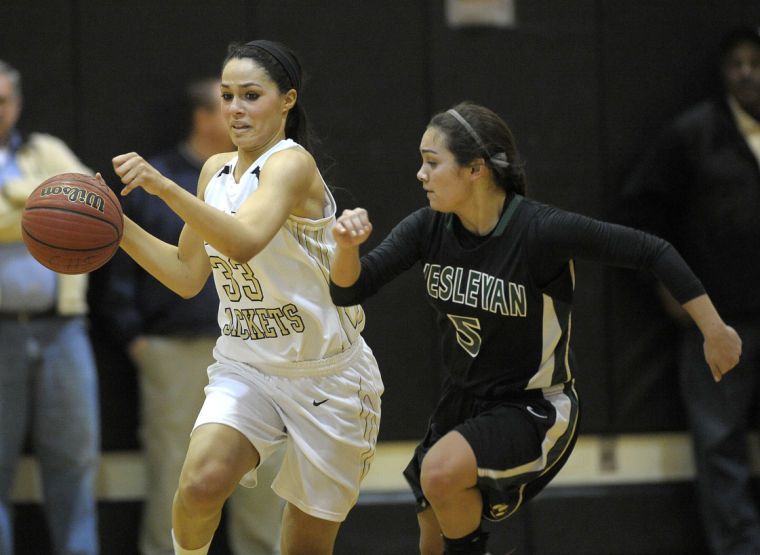 It's been a long time since the Calhoun Lady Jackets tasted defeat — a little over three months to be exact.
Since falling to North Cobb on Nov. 19 in the second game of the season, Calhoun has reeled off 25 straight wins.
That special run, and the season, came to an end on Tuesday night in front of a packed house at the Calhoun Middle School gym as the Lady Jackets fell to No. 1-ranked Wesleyan, 66-49, in the third round of the Class AA State Tournament.
Calhoun (26-2), which was making their first-ever appearance in the Elite Eight, competed for a large portion of the game but could never seem to break through, especially in the second half when Wesleyan never let the lead slip below 10 points.
A couple big momentum swings in the game came just before the half when Wesleyan scored seven points in the final minute to turn a slim three-point lead into a 36-26 advantage at the break and also at the end of the third quarter when the Lady Wolves scored two baskets to push the lead back to 14.
"We gave up a couple shots right there (at the end of the second quarter)," said Calhoun coach Jerry Pruett. "But even at the half, I told them we're only down 10 with Taylor (Palmer) on the bench for the whole second quarter. I felt good coming out of that only down 10. Obviously, if we could've kept it to a four or six-point lead, that would've helped.
"We were still in the game, but they came out and made a couple baskets at the start of the fourth. We could never get it closer to within 12 after that."
Wesleyan (26-4) got a huge game from Auburn signee Katie Frerking as she had a game-high 26 points, including 17 in the first half. Frerking is one of five Lady Wolves who've signed letters of intent to play basketball at Division-1 programs next fall. Brittany Stevens, a Kennesaw State signee, added nine, all coming at the free-throw line.
For Calhoun, Taylor Palmer led the way with 13 points, but only three of those came in the second half, as Wesleyan didn't allow her any good looks in the third and fourth quarters. Fellow senior Carly Curtis added 11, and Molly Palmer had 10.
"We lost to a really good team tonight," said Taylor Palmer, the Region 7-AA Player of the Year. "Their press is unbelievable, and they played it well. They never give you a second to think, and they have a lot of good shooters."
The Lady Jackets trailed 27-19 midway through the second quarter before going on a 9-2 spurt to cut the deficit to three before Wesleyan's final-minute run.
Pruett said the Wesleyan's style of play, especially on defense, was a big factor in the game.
"What made the big difference was their pressure," said Pruett. "They wear you down, and we missed some easy shots a few times as a result of fatigue.
"That fatigue also led us into being a little impatient on the offensive end, and us turning it over or taking a tough shot when we could've been more patient didn't allow us to score on them effectively."
Bree Walraven, who scored nine points on three 3-pointers in the game, and Shanta McDaniel are seniors along with Curtis and Taylor Palmer. The group has been a part of a four-year run of success not seen before in Calhoun girls basketball. They've won two region championships, have had four straight playoff appearances, two Sweet 16s and an Elite Eight to go along with a 25 and 22-game winning streak.
"You couldn't ask for a group to give you any more than this senior group has given," said Pruett. "What they've done in the four years they've been here has been amazing.
"They've set the standard. This season has been special. We've never been to the Elite Eight before this, and for them to go out region champs is huge."
Taylor Palmer said this year and the last four she's spent with this team has been about as good as she could've asked for.
"It's been great, and I wouldn't change this season or the last few years for anything," said Palmer. "Our accomplishments over the last four years really add up.
"It's going to be hard not coming back, but we've had a good run and worked our hardest to be our best in every game we've played."
Wesleyan, who've won nine state championships in the last 11 years, now moves on to the Final Four at Georgia College on Friday to face Thomasville.
BOX
Wesleyan girls 66, Calhoun 49
WESLEYAN (66)
K. Frerking 26, L. Frerking 8, Stevens 9, Booker 2, Duley 8, Talley 4, Edwards 2, Mosley 7.
CALHOUN (49)
M. Palmer 10, Roe 2, Walraven 9, T. Palmer 13, Parker 4, Curtis 11.
Wesleyan    17 19 17                  13 — 66
Calhoun      13 13 13                  10 — 49
3-Pointers — Wesleyan 3 (L. Frerking 2, K. Frerking 1); Calhoun 5 (Walraven 3, Curtis 2). Free throws — Wesleyan 15-26; Calhoun 10-16. Records — Wesleyan 26-4; Calhoun 26-2.