FOOTBALL: Wolves watch Allatoona pull away in final two quarters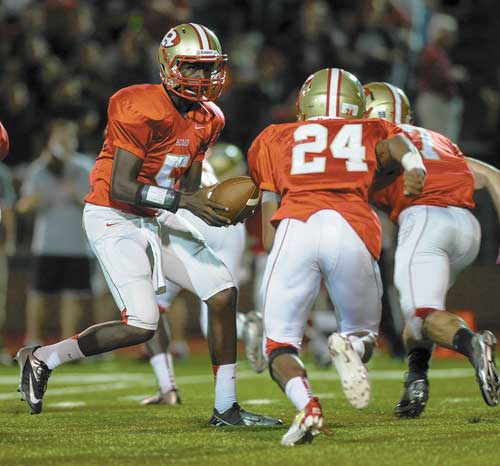 The Rome High football team had a strong start Friday night.
The finish, however, was a different story.
After hanging with the powerful Allatoona Buccaneers early in the game, the Wolves eventually endured a 45-14 loss in the Region 5-AAAAA contest at Barron Stadium.
Coming out of the first quarter with a 7-7 tie, the Wolves accomplished what no team before has done this year — score on the unfaltering Buccaneers.
But in the end, the points scored by the Wolves were a footnote.
"We just didn't score enough," said Rome head coach Franco Perkins. "We had a lot of turnovers, which affected the game."
Rome's quarterback Josh Perkins was a key player in the two lone touchdowns Rome scored.
Josh Perkins had one of the Wolves' two touchdowns. For the night, the Rome quarterback had 56 passing yards with three completed passes.
The rest of the Wolves' points were earned by Frank Griffin, who recorded the final touchdown, and Bryan Mijanos, who kicked both the PATs.
The need for a change of attitude from the team is what Coach Perkins believes will help the Wolves to a victorious season.
"After the turnover to begin the second half we lost heart," said Perkins. "We have to get a little heart to get stronger and be a better football team."
Rome, playing a full region schedule, fell to 1-2 on the season.
Perkins gives full credit to the coaching and overall strength of the Allatoona Buccaneers.
"They're a strong team, and are coached by a smart coaching staff," said Perkins.
The strength of the individual Buccaneers was proven when Allatoona quarterback Connor Larson completed six of his 13 attempted passes.
As Allatoona made solid plays through the entire game, the Buccaneers finished with 306 total rushing yards and 45 total points to top the Wolves' 14.
Russell Halimon, Kameron Bowen and Joshua Bettistea helped to compose of the scoring members of the Buccaneers.
Even with the home loss being a hard blow to the Wolves, bringing their record to 1-2, there is a good to every bad.
"We'll grow from the game and this experience," said Perkins. "We'll have to be successful."
The Wolves are off this coming week, and are back in action Sept. 27, when they face New Manchester on the road.