FOOTBALL: Wolves staying alert as they hit the road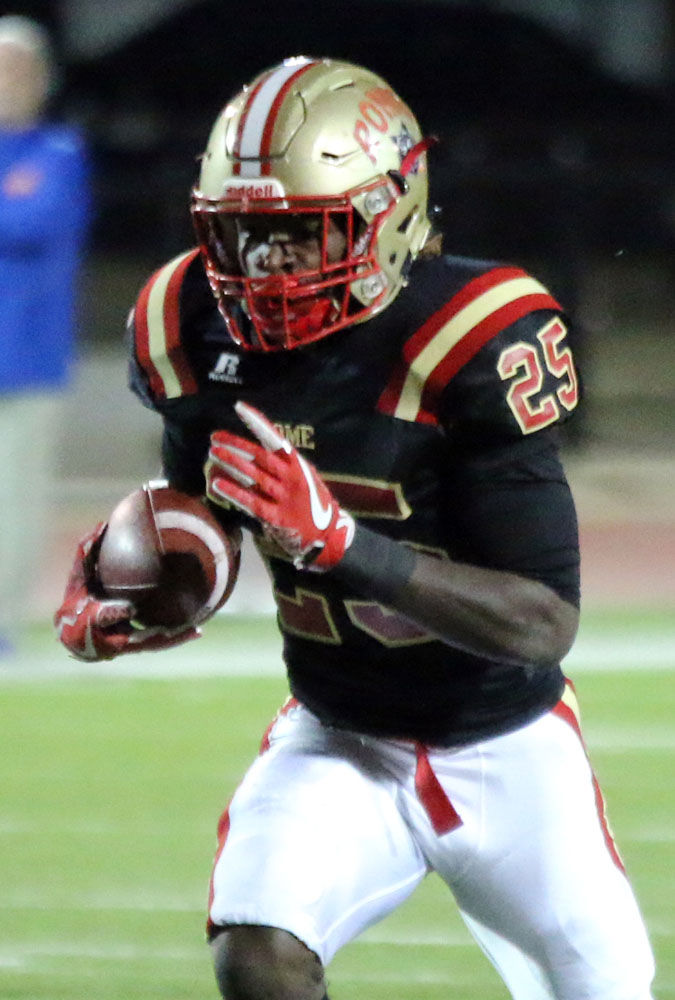 Experience and preparation have been important parts of the Rome Wolves' success this season, leading to an undefeated record and a No. 1 ranking that has lasted since the preseason.
But Rome head coach John Reid knows the playoffs can lead to a surprise here or there.
And his staff is working to make sure they don't fall asleep on their opponents as the competition gets tougher.
The Wolves (12-0) make the trip to Fayetteville tonight for a Class 5A quarterfinal matchup against No. 8 Starr's Mill.
It's the first time since 2015 that Rome will play a postseason contest on an opponent's field.
"I think it's a difficult week to win and try to get the formula right, but I think we've got a good plan," Reid said. "I think every year unfolds differently and you just have no idea. You prepare your kids the best you can for the opponent you're going to face."
Starr's Mill (11-1) is in the Elite Eight for the first time since 2010 — when it finished as state runner-up — and is a clear run-first team, averaging more than 300 yards rushing per game compared to just over 65 yards passing.
The Panthers have four running backs that have run for more than 700 yards while senior quarterback Joey Deluca is 34-of-78 passing for 792 yards with three touchdowns and two interceptions.
"The thing you have to watch out for with teams like a Starr's Mill or a Georgia Tech is when they get into a competition like this they are a run team — they do it very good — but sometimes they beat you with the pass," Reid said.
In fact, the only touchdown against Rome's starting defense in the last six games was on a 20-yard play-action pass by Cedar Shoals in the first round. The Wolves allowed just two field goals the rest of the game and won 63-13.
"They do pass the ball well enough and efficiently enough and have a good enough receiver and quarterback that if you do not take care of your responsibility they'll get behind that," Reid said. "And I think that's the key."
Rome comes into tonight on a 24-game win streak with hopes of returning to the state championship game, but they know they still have a lot to take care of if they want that chance at a repeat.
Defensive lineman Ja'Quon Griffin said their focus is to simply do their job when they take the field tonight — nothing more, nothing less.
"This team, they like to run it. And we like to play against the run," Griffin said about Starr's Mill.
Few teams have had any consistency keeping the ball on the ground against the Wolves this season. They have held seven teams to under 100 yards rushing, including last week when Southwest DeKalb finished with minus 12 yards total.
"We've got our mind set on our goal of getting to the state championship, but we've got to take it game by game," Griffin said. "We can't listen to everybody else and what they're saying about us. We've got to take on this game and, if God blesses us with another game, we're going to take on that one."