FOOTBALL: Warriors want to seize early momentum against LaFayette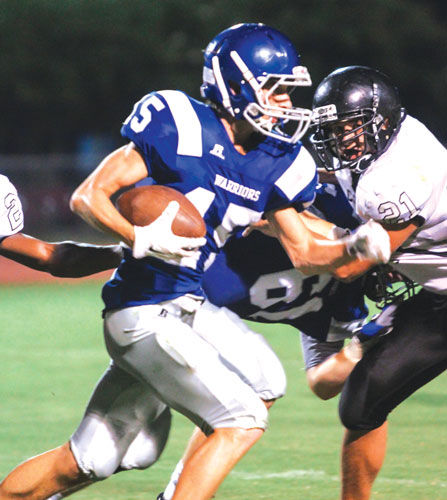 After the season the Gordon Central Warriors endured in 2013, an early-season win would be just what the doctor ordered.
The Warriors get their first chance at that win on Friday when they host LaFayette in their season opener at Ratner Stadium at 7:30 p.m. They are trying to turn things around and grab some momentum after suffering an 0-10 campaign last fall.
Gordon Central head coach David Humphreys, who is entering his second season at the helm for the Warriors, said a win would get things going in a very positive way.
"That's definitely the goal," said Humphreys. "I know the guys have worked extremely hard, and they definitely want to right the ship. We're excited about the opportunity on Friday."
Gordon Central leads the series against LaFayette 5-1, but the two teams haven't played since the 2001 season when the Warriors earned a 35-14 victory.
The Ramblers are led by former Gordon Central head coach Chad Fisher, who led the Warriors to back-to-back playoff appearances in 2011 and 2012 before taking the LaFayette job.
Humphreys said it would be good to see Fisher across the field. Humphreys was an assistant coach for Fisher in 2012.
"We competed against Gordon Central and coach Fisher when I was at Trion, and after he went to LaFayette, we talked about playing each other," said Humphreys. "We thought it would be pretty cool. I think it will be a lot of fun to coach against him on Friday.
"I think it will be bring back some memories for him. So maybe we can bring him back and break his heart," Humphreys added with a laugh.
The Warriors scrimmaged Coosa on Aug. 15 in the preseason and struggled for a large part of the game as they lost 35-7. But in the week since, Humphreys said the team has used the extra practice time in their favor.
"The good thing about having a week between the scrimmage and season opener is you're not in as much of a panic to get ready," said Humphreys. "We went back and looked at the scrimmage and tried to clean some things up. It was a little crazy with the weather, but we got our work in.
"We saw some really good progress, and at the same time, we got some guys healed up that had some nagging injuries."
Humphreys said being prepared for the Ramblers' offense is the goal for his team this week.
"On defense, we've got to eliminate the big play," said Humphreys. "We know coach Fisher is going to throw it around a good bit, and they've got some good running backs as well. We've got to keep everything in front of us.
"We also need to control the line of scrimmage, and we can't have turnovers like we had against Coosa."