FOOTBALL: Teams hoping for sharper performances in second week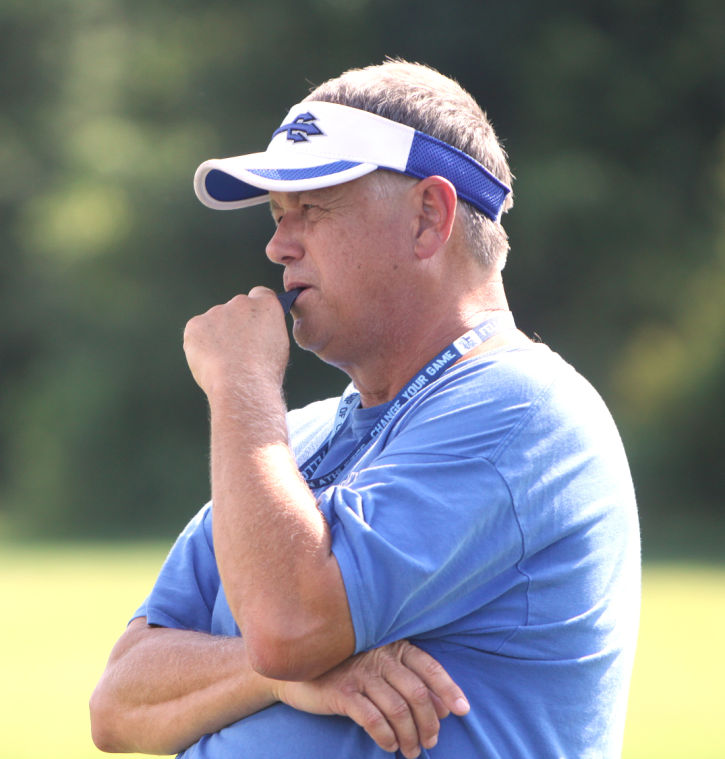 For many teams, the mistakes that were made last Friday night can be chalked up to opening-night jitters.
This week, though, that excuse obviously won't be valid.
Nerves should no longer be a factor, and crisper performances will be expected for the local teams who will take the field this Friday for the second full night of the prep football season.
Model coach Gordon Powers said he believes the majority of teams — at virtually any level of football — make a great amount of improvement from Week 1 to Week 2.
"That first week there is a lot of unknown," said Powers, "but having a full week of experience makes a big difference."
Although Model posted a 35-28 road victory last week over Christian Heritage, Powers said the Devils need to make some positive strides before hosting Mt. Pisgah this week.
"We'd better make some (improvements) or we will be in trouble," he said.
Powers' team entered last Friday's game without one of their biggest weapons, senior Nakyle Watkins, who tore his ACL last week at practice and will miss the season.
Watkins played a huge role last fall in helping the Devils post a 6-4 regular-season record and make the playoffs as the No. 3 seed from Region 7-AA.
Powers estimated that Watkins was "80 percent of our offense down the stretch last season" and said the Devils will have to adjust quickly to his absence.
Freshman Chris Dublin has emerged as the early front-runner to fill the void. He rushed for 122 yards on 15 carries last week, including a 78-yard touchdown run.
"We're fortunate that he's a little bit ahead of where a freshman would normally be (at this stage of his career)," said Powers.
Elsewhere around the area:
PEPPERELL: The Dragons (0-1) are preparing for their home opener on Friday night, when they host Cedartown (1-0) in Lindale.
It will be the second straight week the Class AA Dragons have faced a AAAA school.
The Dragons visited Northwest Whitfield last week, and fell to the Bruins, 38-22.
Pepperell senior Devyn Collins was the workhorse for the Dragons in the loss, rushing for 149 yards on 21 carries.
Playing amid humid conditions, several of the Pepperell players went down with leg cramps during the game. But head coach Jeff Shiflett said the Dragons should be at 100 percent for Friday's game.
"You can drink all the water you want, but it's hard to really get acclimated to that (type of humidity)," said Shiflett.
This week's game against Cedar-town is among the candidates for the Fox 5 Game of the Week. For information on how to vote, visit high5sports.com.
COOSA: The Eagles (1-0) will play their second straight home game — and face their second consecutive AAA team — on Friday night when they host Rockmart.
The Eagles posted an impressive 33-6 win over Gordon Central last week, giving new head coach Todd Wheeler a successful debut.
"It's huge to get that monkey off our back with the first win," said Wheeler. "Now the kids can relax and we can start honing our skills."
Jacquez Brown finished with 133 yards on 20 carries, including touchdown runs of 1, 3 and 22 yards for the Eagles, who led 14-6 at the half before breaking the game open with three touchdowns in the second half.
Isaac Bradley had three catches for 73 yards for the Eagles. Quarterback Evan Simms and running back Tristen Bryant also had touchdowns.
ROME: The Wolves, who play an all-region schedule, will be on the road this week, visiting Hiram for a 5-AAAAA contest.
The game has taken on some extra importance for the Wolves (0-1, 0-1) after they lost to South Pauld-ing in a shootout last week, 42-35, at Barron Stadium.
The Wolves can ill-afford another region loss this week.
"The biggest thing for our guys is to keep their heads up," said head coach Franco Perkins, "and go back to work."
Frank Griffin led the Wolves with 162 yards on 19 carries and scored three touchdowns.
ARMUCHEE: The Indians continue their rugged non-region slate this week when they host Adairsville (0-1).
Armuchee opened the season last Friday with a 43-6 road loss to the Trion Bulldogs, who are coming off a nine-win season and appear primed for another big year.
Armuchee rushed for just 79 yards on 31 carries in the loss to Trion, but the Indians had some success through the air, compiling 135 passing yards.
Austin Gurley scored Armuchee's touchdown on a 34-yard run that tied the score at 6-6 before Trion took control.
The Indians' running game will have a tough challenge again this week against an Adairsville team that traditionally has plenty of size.
Adairsville opened the season with a 23-14 loss to Cass last week.
DARLINGTON: The Tigers, who opened their season a week earlier than most other local teams, have an open date Friday before visiting Chattooga on Sept. 13.
Darlington (1-1) fell to AAA powerhouse Cartersville, 36-0, last Friday after blitzing Murphy (N.C.), 50-6, the previous week.
The Tigers played Friday's game without junior Robert Muschamp. The play-making junior suffered a knee injury in the win over Murphy, and was on crutches Friday night.
Atha said the Tigers expect to have Muschamp back in action before the end of the season, but he said they have not yet set a timetable as to when that will be.