Football: Start of something good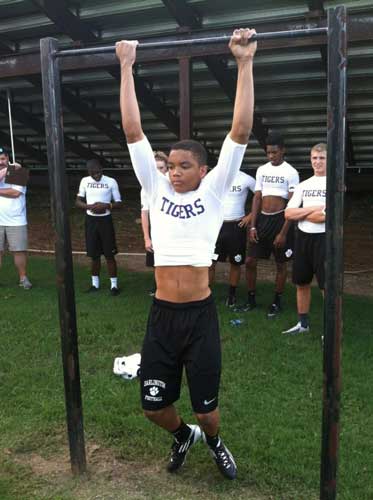 Thursday was filled with football in the Rome area — morning, noon and night. 
At Model, head coach Gordon Powers had his team on the field bright and early.
At Darlington, head coach Tommy Atha and the Tigers gathered in the evening.
And elsewhere around the area, several other local teams took the field at various times during the day on what was, essentially, the first day of football season in Greater Rome.
Pepperell head coach Jeff Shiflett said it was a "good first day" and noted that the workout was what the players had been doing all summer, but that now "it was finally official."
Pepperell, Model, Armuchee and Coosa were each on the field for their first "acclimation" practices — a series of five GHSA-mandated workouts that allow players to get adjusted to the heat and humidity while practicing in helmets only.
"The kids were excited to be out there," said Shiflett. "It feels like the season is finally about to begin."
At Darlington, Atha's team conducted its annual "Iron Tiger" event, which Atha described as a "non-football measure of athleticism."
The event is a tradition at Darlington that dates back to 1996.
Players compete in several events, including a "timed hang" on the chin-up bar and a power competition that involves pulling a weighted sled.
Atha said the various competitions are great for team bonding, and noted that "this year was the closest competition" he can remember.
Meanwhile, at Coosa, the Eagles were on the field for their first acclimation practice.
"Today went well," said head coach Todd Wheeler, who is entering his first season as head coach at Coosa. "The team got a lot of skill work in. The kids were excited to be kicking off the season."
At Model, Powers said the coaching staff allowed the players to ease into practice, and said the Devils will "pick up the pace as we go."
Armuchee head coach Preston Cash said: "I think acclimation days are good for the kids. … The team has been working all summer with weight training and agilities … (and) will continue to work hard until time to suit up with pads August 1."