Football: Springing into action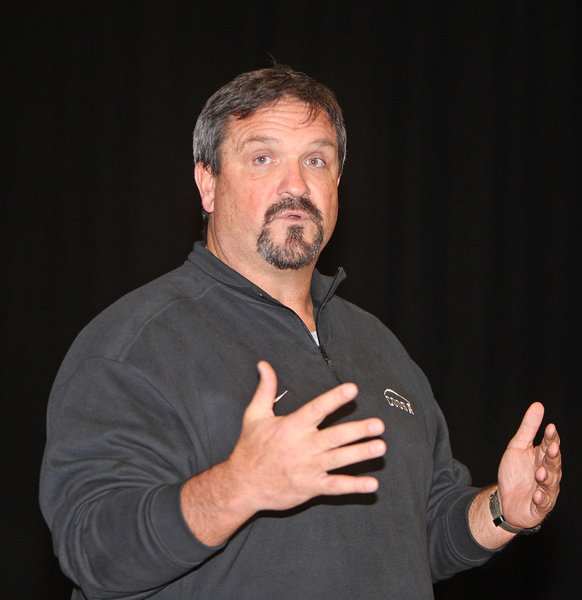 Intrasquad scrimmages are where a spring full of hard work reveals itself — and offers a glimpse of the fall.
It's the first time a team gets to try out its new philosophies, like a new offense or defense, or gets its younger group acclimated to varsity ball.
Model, Coosa and Pepperell got to lay these foundations Friday night in their annual spring scrimmages — and the coaches were pleased with what they saw from their respective teams.
Each of the three Floyd County teams made the playoffs last fall, and will be looking to continue that success this coming season.
At Coosa, new head coach Todd Wheeler said it was important to get his younger players adapted to the high-school team dynamic, and he was impressed by what his underclassmen brought to scrimmage.
"We're a young team," said Wheeler of what he saw in his team's Black and White Game, "so the enthusiasm and the excitement was very good tonight.
"I thought that our young guys really picked up on our system and on the offense we've put in and that showed tonight."
For Model coach Gordon Powers, continuing his team's success from last year is all about having a team that's not afraid to get rough.
"I was really pleased with our effort," he said about his players' performance in the annual Blue and White Game on Friday night in Shannon.
"I think our kids and players got after it pretty good which as a coach the good starting point is having kids who will go full speed and don't mind contact.
"They hit and tackle and come off the ball and do all those things pretty good. If you don't have that then you have a mountain of work to do if your kids aren't aggressive, but our kids were very aggressive in our scrimmage."
For Pepperell coach Jeff Shiflett — who also led his team to the postseason last fall — the Dragons' annual Black and Gold Game was a perfect display of the progression and improvements his players have made since the fall.
"Our coaching staff was very happy with tonight's game," he said. "We got a chance to see a lot of kids progress over the spring. I felt really good about our spring training. Overall, we have seen some good things in our kids. They have come along way since last fall."
Powers said his underclassmen brought maturity beyond their years to the scrimmage.
"I was really impressed with some of our young kids," he said. "We've got some upcoming freshman and some sophomores who seem to be a little ahead of the curve as far as playing more mature. It's always good to know that you have a good young group coming up to follow a pretty solid older group. "