Football: Several local players in Gordon County sign scholarships on National Signing Day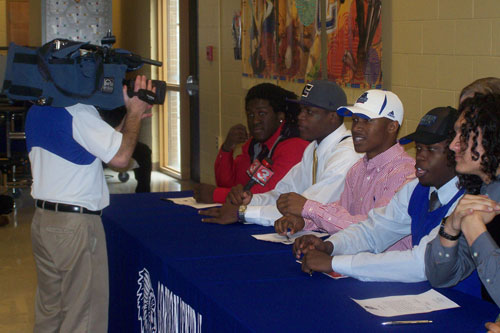 When a high school athlete signs on the dotted line for a college athletic scholarship, it's a rush of emotions mostly because of all the time, patience and hard work they've put in over the last few years.
Nine local football players got to experience that feeling on Wednesday, National Signing Day, as they signed football scholarships to continue not only their playing career but also their education.
Gordon Central held a celebration ceremony as six Warriors signed scholarships, and Calhoun had three players sign.
Chad Fisher, who recently accepted the head coaching position at LaFayette after spending six years at Gordon Central, said seeing six of his players (DJ Prather, Tyshaun Clemmons, MJ Reynolds, LaRons Winston, Eric Smith, Brandon Paradise)  sign scholarships was a great accomplishment for the school and the football program.
"It's really a reflection of what the kids have done and all the effort and hard work they've put in these last few years," said Fisher. "The school, the community and our coaches are extremely proud of them.
"These colleges are getting six fine young men all with different qualities they will bring to that school, and they are fortunate to have the opportunity to continue their career. I think they'll all do extremely well."
Over at Calhoun, the Jackets had three signees, including Taylor Lamb, Josh Barnes and Sebastian Willer. Calhoun coach Hal Lamb said it's always a good day when his players sign scholarships for the next level.
"It's a big deal," said Lamb. "I feel like it's part of my job to help get kids to the next level if that's what they want. I'm excited for these three, and I'm excited for them to continue their football career and get an education along with it."
Gordon Central's Clemmons and Reynolds will not only continue their career, but they will also continue as teammates as they both signed with Georgia State.
"It feels great to sign," said Clemmons. "Georgia State is close to home, and it's somewhere I felt comfortable. They have great facilities, and (MJ and I) both want to go help build a tradition there."
The two Warrior will be teaming up with Calhoun's Willer as well, as he signed with the Panthers on Wednesday, saying it's where he wanted to be because he will more than likely be able to play tight end. Willer and his family moved to Calhoun from Germany before his junior year, and Lamb said with him only playing American football for a couple of years, he has a lot of upside.
Rounding out the Gordon Central signees were Prather (UT-Chattanooga), LaRons Winston (Cumberlands (Ky.)), Eric Smith (Lindsey Wilson) and Brandon Paradise (West Georgia Tech).
"I means everything to me," said Prather of being able to play college football. "It's the sport I love, and UT-Chattanooga is where I want to be. After I took my official visit there and talked with the coaches, I knew it was where I wanted to go."
Calhoun's Taylor Lamb signed with Appalachian State. He committed to South Alabama last July, but changed his mind officially after visiting Appalachian state a few weeks ago.
"Taylor is going to a great place," said Hal Lamb. "They know how to win there, and I think that was a big part of why Taylor decided on them. He's a great kid, and I think he's going to be a big part of their program over the next few years."
The final signee from Calhoun was Josh Barnes, who inked with Air Force after choosing them over Mercer. He will join former teammates Trent Frix and Reed Allen there after that pair signed with Air Force last year.
"It's an amazing opportunity," said Barnes. "I just fell in love with the campus when I went there, and the education I'll get along with playing Division-I football is something I'm really excited about."
For photos of each of the signees on Wednesday, see Saturday's Calhoun Times.
Listed below are the nine local signees and where they will be playing college football:
Gordon Central signees:
Tyshaun Clemmons - Georgia State
MJ Reynolds - Georgia State
DJ Prather - UT-Chattanooga
LaRons Winston - University of the Cumberlands (Ky.)
Eric Smith - Linsey Wilson
Brandon Paradise - West Georgia Tech (Juco)
Calhoun signees:
Taylor Lamb - Appalachian State
Sebastian Willer - Georgia State
Josh Barnes - Air Force