FOOTBALL: Rome's offense rolling in 2017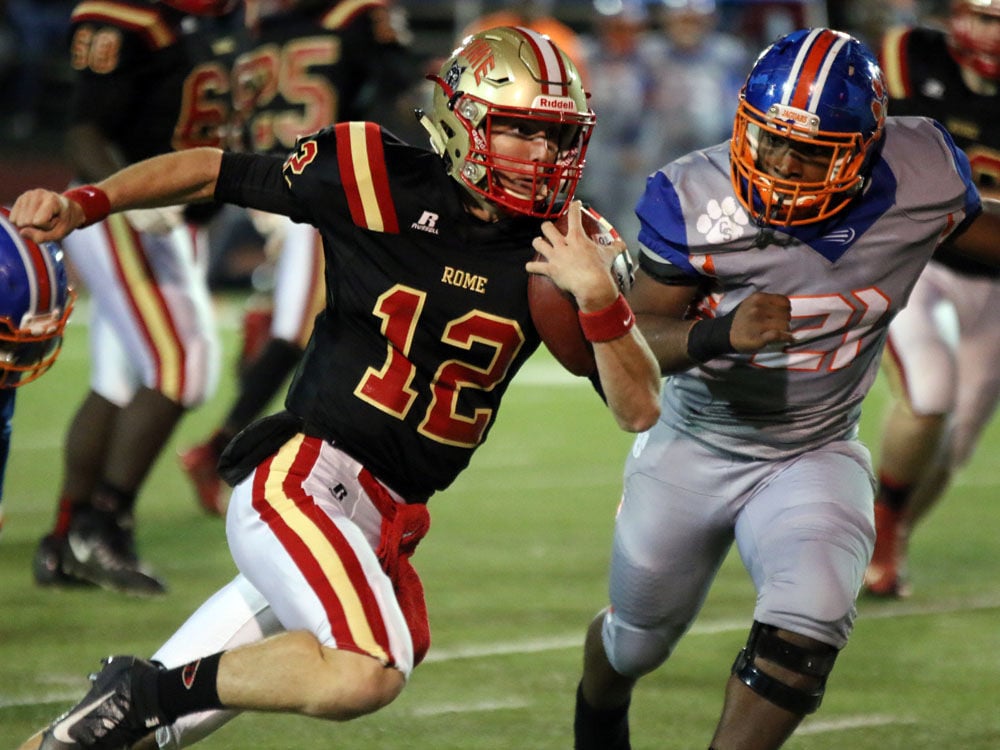 Rome offensive coordinator Chris Boden is always thinking about the next play. There's no room to pause for a moment or take in what his team is accomplishing. There's only time to keep the offense rolling to its next move.
But when a game ends, Boden almost always finds himself blown away. It's the only natural reaction to have with the talent he's had at his disposal recently.
The Wolves intend to showcase that top-notch offense again in their second-round matchup against Southwest DeKalb tonight at Barron Stadium. The team will be trying to score more than 40 points for the 11th straight game.
"One of my favorite things to see is when one guy makes a play, and everyone gets excited for him," Boden said. "And now the other guys counter that and say, 'I want to make a play now.' And we try hard to get the ball spread around and make that happen."
The Wolves (11-0) rank first in Class 5A with 50.9 points per game, more than three points ahead of any other school. Along with a defense ranked third in 5A, the team ranks first in margin of victory in the state.
As Boden or head coach John Reid mention, those numbers are helped by an elite defense putting the offense in good field position.
But once the offense starts driving, it's a nightmare for opponents as they try to figure out where the ball might go.
Jamious Griffin and Jalynn Sykes power the run game, both racking up more than 900 yards each and 36 combined touchdowns.
Meanwhile, quarterback Knox Kadum has thrown for 1,579 yards and rushed for 396 yards with 23 total touchdowns.
And if Rome decides to pass, Kadum has a litany of wideouts such as Xavier Roberts-Donaldson, Jordan Watkins, and Javard Williams. Most of these players have grown together through Reid and Boden's system the last three years.
"These guys have just gone along with the development of the program," Reid said. "Whether it's in the weight room, going to practice to learn good technique and you just slowly develop. And I think we've also been fortunate to find an offensive line that can work together."
While the offense attempts to keep rolling, the defense must hold up against a dangerous combo on Southwest DeKalb's offense.
Running back Francisco Hunter leads the Panthers (8-4) with 1,623 yards this year, while quarterback Justin Tomlin threw three touchdowns in a 35-17 win against Banneker last week.
Rome comes off an unusual first- round game, a 63-13 victory against Cedar Shoals in which Rome didn't pull away until the third quarter.
A fake punt and a few turnovers led to early scores for Cedar Shoals.
Reid was impressed with the spirited effort its first-round opponent brought, and he expects the same from the Panthers.
"I thought last week's game was good for us," Reid said. "It shows we aren't invincible. It shows there's going to be adversity. But we want to be in the final eight, and that's going to take good offense, good defense and good special teams for four quarters."
Tickets for tonight's game will be available today at the Barron Stadium ticket booth from noon to 2 p.m. The price is $10 per person.