FOOTBALL: Rome hopes to wrap up perfect regular season tonight against Woodland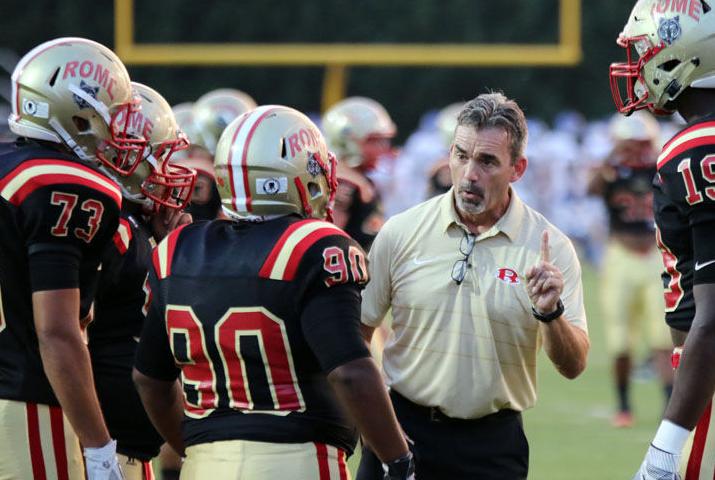 Before a single snap is played tonight at Barron Stadium, the Rome Wolves know their fate for next week. With a Region 7-5A title already won, nothing in tonight's game against Woodland will change Rome's first round playoff matchup.
But head coach John Reid and his players aren't thinking about any of this when they wrap up their regular season against Woodland.
There's still an undefeated season to play for, as well as plenty of progress entering the postseason.
"Going undefeated is something to take pride in, because it's something some schools never accomplish," Reid said. "We talked as a team about the significance of doing something so rare, especially with the schedule we've had this year."
A victory makes Rome 10-0 for the first time since 2004, and would extend the Wolves' winning streak to 22 straight games.
The run of victories has come almost without a scare, with the Wolves winning each game by double digits. An offensive attack averaging 48 points per game paired with a menacing defensive front has proven trouble for anyone Rome has faced.
Reid cannot pinpoint one single aspect leading to the success, and instead highlights the team's work aspect throughout the week.
"There's just so many things that go into what we try and accomplish every week," Reid said. "It's sort of what Nick Saban calls 'The Process.' It's from the field to the weight room to film study to character, to everything."
While making marks on history is preferable, Reid doesn't want players thinking too much about it. The Wolves intend to play more than a few games in the postseason, and getting too caught up on any one game can be hazardous to the team.
Woodland is not going to make the playoffs, but the Wildcats are certainly improved from the teams that won a combined one game in the last two seasons. A pair of region victories early in the year has proven progress is being made.
The closest region games Rome has played all year were two 21-point wins against Carrollton and Kell. But that doesn't mean Woodland is going the same way, and Reid wants the team ready.
"They have a difficult offense. ... They are running a robust wing T formation," Reid said. "So defending that is going to be difficult. But as another factor, you don't want to be lethargic going into the playoffs, going against teams you don't know much about."
While Rome has clinched its spot in the postseason, there are three different teams with a chance to play the Wolves in the first round. Cedar Shoals, Walnut Grove and Loganville all have a chance to get the fourth place spot in Region 8-5A.
But before any of that, the team has to worry about Woodland, and making its mark in program history.
"It's a region game, and I don't expect us to let up," Reid said. "It's part of what we've been teaching since day one, and the team understands the goal is to finish the season on a high note."