FOOTBALL: Rockmart coach likes his staff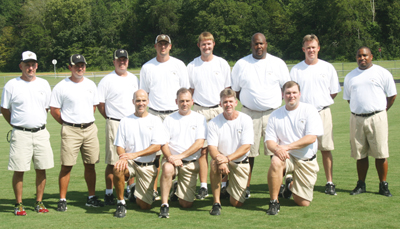 Rockmart High School head football coach Dan Duff believes as he enters his 12th season as the Yellow Jackets taskmaster that he is coaching with the best staff possible.
"I don't believe you can put together a better staff than what I have," Duff said. "This is a great staff. These are good men who are solid role models for our student-athletes. They are all real knowledgeable of the game of football and I'm glad to have them."
Joining Duff on the 2013 Yellow Jackets coaching staff are Joe McCoy, Courtney Hammock, Jimmy Easterwood, Andre Clark, Corey Godfrey, Kent Mathis, Archie Scott, Levi Wigley and community coach Chuck Thaxton.
McCoy, entering his ninth year at Rockmart, will once again be the defensive coordinator. Hammock will be coaching the defensive line and Thaxton will teach the defensive ends. Easterwood will handle the linebackers and Clark will coach the defensive backs.
Offensively, Godfrey will be the offensive line coach, Wigley will take the quarterbacks under his wings, Mathis will handle the running backs and Scott will once again coach up the wide receivers.
Mathis, 26 years, and Godfrey, 10 years, are staples in the Rockmart football program. This will also be Scott's 13th year, Hammock's fifth year and Easterwood's third year.
"This school and community is fortunate to have them coach their kids," Duff said.