FOOTBALL: Ridgeland's Bell picks Ohio State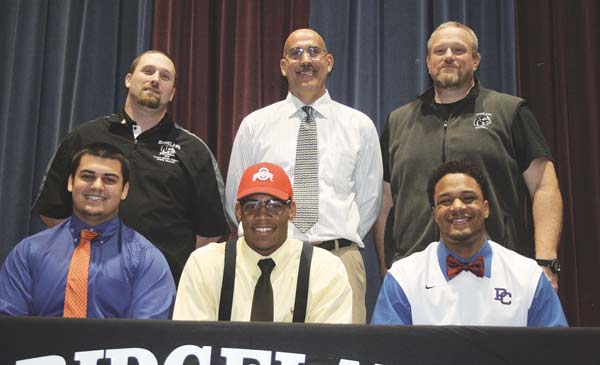 The Ridgeland High School football program has sent several players to SEC and Big 12 programs in the past few seasons.
On Wednesday, they added the Big 10 to that impressive list as All-American and five-star senior safety Vonn Bell announced his decision to sign with head coach Urban Meyer and the Ohio State Buckeyes during a press conference at Ridgeland.
The press conference was attended by numerous media outlets in the Tri-State area, and was also broadcast on ESPNU as part of its full-day National Signing Day coverage.
Today is the first day that high school senior football players can officially sign their college letters of intent.
"First, I want to thank God for blessing me with this opportunity," Bell stated as the press conference began. "Secondly, I want to thank my family and friends for supporting me over the years. To my folks and teammates, I wouldn't be here today without you, and to Panther Nation, thank you for making me feel like part of the family for the last two years."
"I have enjoyed this process. I want to thank the other universities that recruited me and thank them for giving me this opportunity to do what I love to do. Next year, I will be attending the Ohio State University."
The selection of Ohio State ended nearly a year's worth of speculation over Bell's decision. He had received more than 25 major college football scholarship offers since the University of Georgia made him his first offer on Jan. 7 of last year.
Bell narrowed his list of choices to seven schools over the summer, and later whittled that list down to three: Alabama, Ohio State, and Tennessee.
All three schools pushed hard to win Bell's services in the final month. Bell took official visits to all three schools in January and coaches visited Bell at home and at Ridgeland in the final weeks before the announcement.
Bell said he finally made up his mind on Monday night.
"I just woke up in the middle of the night," he said. "Maybe it was just God giving me a sign."
He said he was sold on the family atmosphere among the coaches and players at Ohio State.
"You can't really argue with Coach Urban (Meyer)," he continued. "He really builds great player-coach relationships, like the way he did with Tim Tebow. He gets close to his guys and brings them in as part of his family too. They have Family Night every Thursday up there, and even the coaches' wives and kids get involved, baking cookies and stuff like that. You want that type of relationship because you don't want it to be all business."
Bell added that his education was another big factor.
"My family is big on education, and I promised I'd get my degree," added Bell, who plans to major in Sports Management. "I think we can keep winning at Ohio State, and I'm going to go there and keep trying to building the program up. It's a win-win on both sides.
Ridgeland head coach Mark Mariakis said Bell was torn heavily in the last week between Ohio State and Tennessee, who recruited Bell heavily in recent weeks after Butch Jones was hired to replace Derek Dooley. However, he felt the Buckeyes' nearly yearlong relationship with Bell was ultimately the deciding factor.
"You talking a yearlong relationship against a two-week relationship, although that two-week relationship was a very strong one," Mariakis said. "If it was strictly an emotional decision, he would have gone to Knoxville, and we've known that from Day One. But there were a lot of deep roots that had already been established at Ohio State, and they already had all the pieces in place. I think he made a great decision. They love him up there. He can go up there and play and win right now and get his education. It's a perfect fit for him."
Bell called ultimately turning down an offer from the school he grew up supporting "very difficult".
"I grew up liking those guys," he explained. "They are in the process of rebuilding right now to get Tennessee back where they need to be. It was hard to say no to them, but (Coach Jones) told me he'd be a fan of mine wherever I went. He's a good guy."
Fellow seniors Gannon Hampton and Darrell Bridges joined Bell on stage for the conference in the school's auditorium, along with Bell's family and Ridgeland head coach Mark Mariakis.
All three players later joined their families as they signed their letters of intent in front of the student body in the school's gym. Hampton chose to attend Division II powerhouse Carson-Newman, while Bridges will play next year for Big South member Presbyterian College in South Carolina.
All three were first team All-State selections this past fall as they helped lead the Panthers to a 13-2 record, the Region 7-AAAA title, and a spot in the Class AAAA state championship game for the first time in school history.
Mariakis also announced that all three had received full athletic scholarships to the schools of their choice.
"What a day for Ridgeland and this community," Mariakis said. "It's a feather in everyone's cap. All three of them are special players and they are getting a chance to further their education. Today is a really a celebration day for the community and we're really proud for them."