FOOTBALL: Ridgeland looking to reload for another playoff run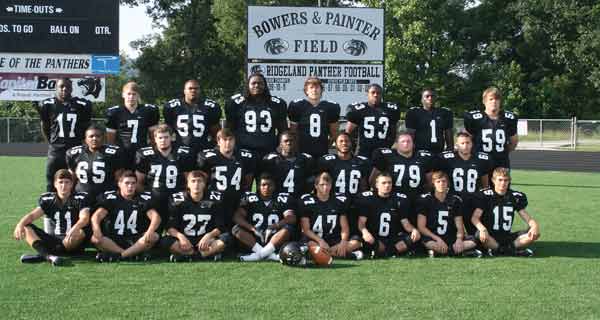 Everywhere you look these days, it seems that more and more high school offenses are going to some type of spread formation. 
Count the Ridgeland Panthers in the minority.
Ridgeland scored a victory for old-school football last fall, riding a punishing — and at times devastating — rushing attack to over 5,100 yards and 69 touchdowns.
Those numbers resulted in over 40 points per game, a school-record 13 wins, a fourth region title in the last five seasons, and the first state championship game appearance in the program's history.
Mark Mariakis, beginning his 10th season as head coach, said last year was a great reward for the effort spent in building the program.
"There's no guarantee that you get rewarded for hard work and time spent," he said. "There have been times in the past when we've felt we put in just as much work and did everything we could, but the wins just didn't show up on the scoreboard.
"But every once in a while, like last year, things just all come together and you get an external reward with wins on the scoreboard. It's gratifying and a self-satisfying feeling to know that what we do works. There's no magic formula. The kids have bought into our program and our philosophy and it was nice to see the kids and the community get rewarded for all of their hard work."
Mariakis said that one of the big reasons for the team's turnaround from a 1-9 program in 2004 to a 13-2 season last year is in the numbers.
"We had 32 kids in that first team picture we took back in 2004, and this year we had 120," he continued. "It all goes back to the school administration and the people in charge, trusting us and allowing us to do what we thought needed to be done.
"We've been able to update the facilities, build a weight room, and get the athletes in a weight training class during school. We've also been allowed to hire guys who are primarily football coaches and we've gone from a staff of six to a staff of 13 in that same time frame. Throw in some athletes and it's a pretty good mix."
It also takes commitment on the part of the players and Mariakis said he was proud of the fact that the majority of this year's squad will have their names on the backs of their jerseys, a reward for missing only three days or less of summer workouts.
"Out of the 120 kids, 97 will get their names on their jerseys and 50 of those kids didn't miss a single day," he added. "That just shows you how committed our kids are. That doesn't always guarantee wins, but without it, it pretty much assures losses."
Senior Hunter Kaufhold will take his turn under center this season as a first-time starter.
"Like a lot of our kids, Hunter got some good reps last year in some games that were decided early," Mariakis said. "He's maturing as the type of quarterback we need him to be and that's to be a game manager. He's got good speed, a good arm, and he can make good decisions. We're very pleased with his progress."
Freshman Ivy Boehm will likely begin the season as the No. 1 back-up.
Ridgeland will only return about 800 yards and eight rushing touchdowns from last year's prolific offensive production and all of that comes from senior Noah Cooper, the team's most experienced rusher.
But Cooper will not have to shoulder the entire load as the Panthers will simply reload in the backfield.
A deep stable of backs includes senior George Johnson, who has looked very impressive in returning from a knee injury that cost him the first half of the 2012 season.
Junior transfer Calvin Davenport will bring an extra burst of speed to the wing-T, and others such as seniors Dillon Peterman and Brad Stailey, juniors Zach Weathers and Austin Bowen, sophomore Caderius Word, and freshman fullback Chris Henderson, will give the Panthers plenty of firepower.
On the outside, seniors Uras "L.T." Agee and Trey Stubbs and junior Chase Crawford will be the primary receivers, while senior Jermane Conyers and junior Tyler Collis will line up at tight end.
As usual, the offensive line will be the focal point of the ground game. Senior Josh Skates and junior P.J. Gardner are the lone returners up front, while seniors Quenton Montgomery, Malik Couch, Tre Daniels, Austin Burns, and LFO transfer Dusty Melford are among those vying to fill the vacant spots.
On the defensive side of the ball, Conyers is the name to know. The 6-foot-3, 290-pounder has already received and accepted a scholarship offer from Indiana University of the Big Ten.
Next to him, Collis brings some varsity experience. Montgomery will return after a near two-year absence from the team, and Melford will provide much needed veteran leadership in the trenches.
Although the Panthers will miss inside linebacker Daniel Johnson, the other four returning starters will give Ridgeland one of the best units in the state.
Stubbs and Weathers will handle the outside slots, while senior DeAngelo Smith and junior Ian Hayes will patrol on the inside. That quartet combined for 395 tackles, 45 tackles for loss, four sacks, and four interceptions a year ago.
Juniors Sam Cobb and Jacob Russell, along with sophomore Nathan Morgan, are among those fighting to earn the lone vacant spot.
Peterman will move from cornerback to free safety to inherit the spot left by Ohio State signee Vonn Bell. Agee and Davenport will play on the corners, while Crawford, Stailey, and sophomore Devartay Turner will help provide depth.
There will be new faces on special teams as well as sophomores Ivan Ojeda (kicker) and Miguel Velazquez (punter) will split the duties.
Mariakis said controlling both lines of scrimmage would be key for his team's chances in winning another region title, as well as finding a way to match the team chemistry had by the 2012 Panthers. 
"Man-for-man, last year may not have been the most talented group, but it was by far the best team we've ever coached," he said. "There was no drama and it couldn't have been better.
"Hopefully this group will see what we did last year, trust us, develop those same types of bonds and go for it again. We got to taste what it was like to walk out in the Georgia Dome in that atmosphere, and when you taste that, you want to get back. Our guys believe they can win and they know what it takes."