FOOTBALL: Ridgeland gains 'invaluable experience' at Southeastern 7-on-7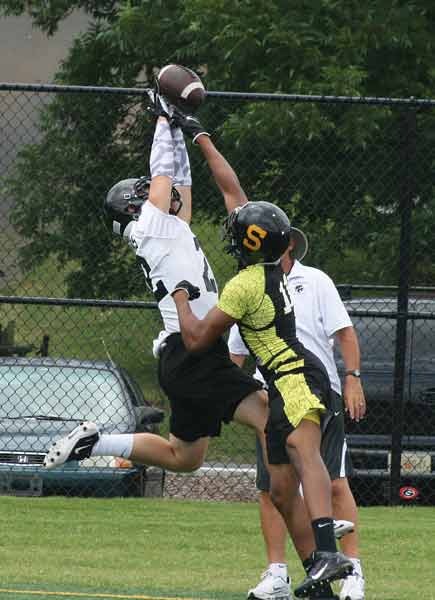 DALTON — The Ridgeland Panthers are not exactly known as a team that likes to throw the ball down the field.
Last season, the Black-and-White advanced to the GHSA Class AAAA state championship game primarily on the strength of a running game that racked up more than 5,400 yards and scored 73 touchdowns. By contrast, Ridgeland threw the ball just 91 times.
They surpassed that total this past Saturday alone.
Ridgeland had to forego the run in Dalton — albeit only temporarily — as they were one of nearly 40 schools to compete in the third annual Southeastern 7-on-7 Championship in Dalton.
A total of 42 teams representing 10 different states converged on the Carpet Capital over the weekend to battle it out on the gridiron, just two weeks away from the official start of pre-season practice in the Peach State.
Ridgeland was one of a handful of Northwest Georgia schools that fielded two separate teams during the event and was the only local school to see both of its teams advance to Sunday's 24-team championship bracket after a long day of pool games on Saturday.
"Our kids know we aren't going to throw the ball 40 times a game," head coach Mark Mariakis explained. "I'm sure we threw it more this weekend than we did in 15 games last year, but it gave us a chance to get some good work in on our passing game and our passing defense."
Ridgeland's "A" team, made up of primarily varsity and returning players, went 2-3-1 in pool play, scoring wins over Victory Christian, N.C. (19-15) and Villa Rica (9-6). They tied McMinn County, Tenn. (18-18) and lost to Scotlandville, La. (13-12), North Murray (10-3) and Paoli, Ind. (18-3).
The Panthers "B" team, consisting of mostly freshmen and junior varsity players, went 2-4 in their pool. They scored wins over Brainerd, Tenn. "B" (12-3) and Knoxville West, Tenn. (14-12) while their losses came at the hands of Maplesville, Ala. (18-0), Jeffersonville, Ind. (12-6), East Hall (19-15) and Coahulla Creek (10-9).
Success and points would be hard to come by for both Ridgeland teams during Sunday's bracket play. The "A" team dropped their opener to Maplesville, Ala. (28-0) and were later eliminated by Jackson, Mo. (25-6).
The "B" squad began Sunday with a loss to Jackson (22-12) before seeing their day end with a loss to Maplesville (29-10).
Rising senior quarterback Hunter Kaufhold completed 77-of-134 passes (57.5 percent) in the eight, 22-minute, running clock games for the "A" squad with nine interceptions and eight touchdown passes. Zack Weathers and Keyshawn Forston had two TDs each with George Johnson, Noah Cooper, Jacob Russell, and Tyler Collis each hauling in one.
On defense, Trey Stubbs, Calvin Davenport, Chace Crawford, L.T. Agee, Russell, and Weathers had one interception each.
"I thought we got in some good reps and I thought both of our groups played hard," Mariakis added. "We saw a lot of things that we need to work on, but that's why were are down here doing this. I thought our younger kids did an excellent job of competing against the other varsity teams that run the spread. They may not realize it now, but they go some invaluable experience this weekend."
Ridgeland was scheduled to face Signal Mountain in a 7-on-7 session Tuesday morning in Rossville and the Panthers will also host Red Bank and Whitwell on Tuesday, July 23.
Ridgeland will scrimmage Signal Mountain on Aug. 15 in preparation for the home and season opener Aug. 30 against Calhoun.