FOOTBALL: Preparation, confidence behind Rome's state semifinal victory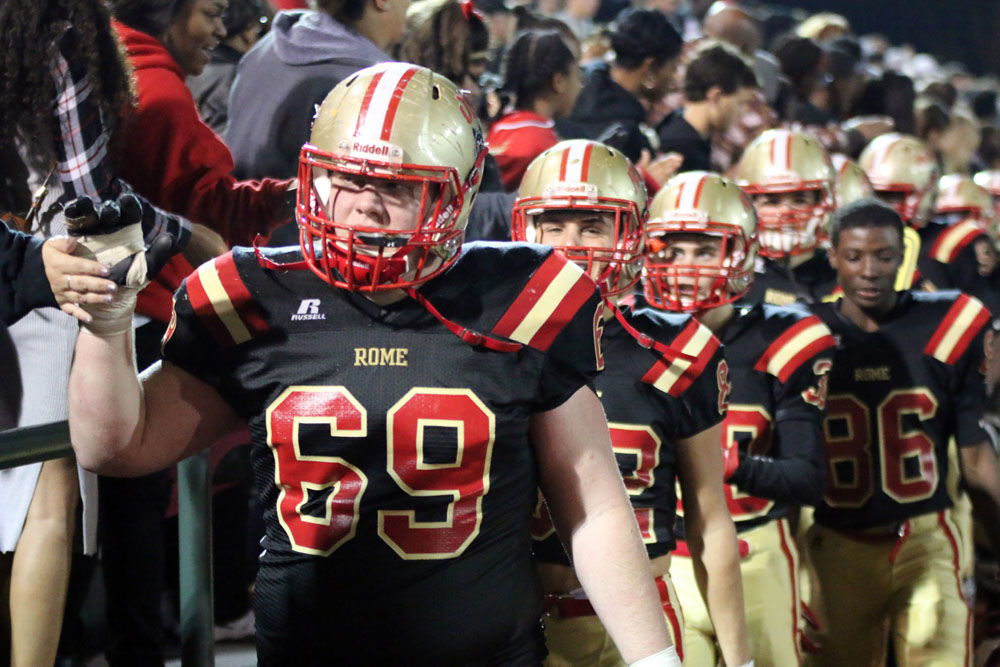 Plenty of Rome fans entered Barron Stadium on Friday night confident their team could beat Buford for a second consecutive year.
However, it'd be difficult to find someone who expected Rome's 45-7 blowout win over No. 3 Buford. The one place where that sentiment could certainly be found was Rome's practice field last week.
It was there, in every practice, that a confidence was built up and produced a performance in the Class 5A state semifinals that almost no one predicted.
"It's all on the kids, man. They're the ones on the field and they allowed us to coach them," Rome head coach John Reid said. "There's a confidence factor in everything we teach, and this team had a belief. They believed they could execute all week leading up to this game."
Now the top-ranked Wolves have a week before the final game of the season against Warner Robins at Mercedes-Benz Stadium for the Class 5A state championship. Kickoff is set for Friday at 4:30 p.m. Rome (14-0) proved it had no pre-game jitters on the opening drive against Buford when it went 78 yards on eight plays for a touchdown. The first seven plays came on the ground, as Rome enforced who would win at the line of scrimmage.
That was the norm for the rest of the game, with the exception of a single Buford scoring drive in the second quarter. A big pass play and a touchdown run from Buford quarterback Aaron McLaughlin made it 10-7, and a shift in momentum seemed possible.
But Rome didn't blink, going back down the field with another touchdown to go back up 10 points. The drive was capped off by an acrobatic touchdown reception from Xavier Roberts-Donaldson, a play that required plenty of trust in quarterback Knox Kadum.
"It was there, so I just reached up and grabbed it," Roberts-Donaldson said. "Knox is always leading me to that right place with his throws, so I have trust I can go and get it whenever he throws the ball."
The rest of the game was troublesome for the Buford offense, a unit known for having its way on the ground. The team finished with just one running play of more than 10 yards — a 30-yard run coming in the final minutes against Rome's backup defense.
The hours spent pouring over Buford game film had led to stellar results.
"We have told them since the beginning, they are trained to win playoff games," Reid said. "And that is what the players go about doing. Have trust in the system and make the plays and keep grinding."
The win also continues a run of dominance never before seen in program history. Aside from a 26-game winning streak, Rome has now won by 21 points or more in 13 straight games, and Friday was the 12th time this season the Rome offense has scored at least 45 points.
Of course, Rome still has one more game to win, and one more week to prepare.
"For this town and everyone just depending on us, it's a great feeling to do this at Barron again," Kadum said in the afterglow of his team's 38-point win Friday night. "I know that our fans have been behind us all season. They support us all the way. And we've got a lot of work to do this week."