FOOTBALL: Phoenix-Tigers matchup carries playoff implications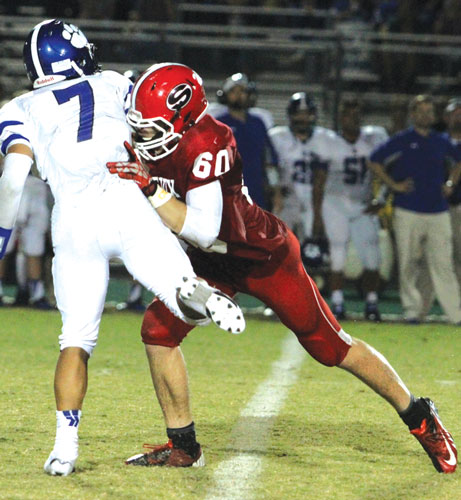 There's a buzz around Friday night's Sonoraville-Adairsville matchup that hasn't been felt around a Phoenix game in a long time.
The showdown between the Phoenix and Tigers carries big-time playoff implications in Region 5-AAA and each team knows how important a win would be in helping secure one of the four postseason spots from the region.
The Phoenix (2-4, 2-1) haven't been in this position very often in their program's history, having never qualified for a state playoff berth and having only been in the playoff race a couple times. Sonoraville coach Roger Gentry said he and his staff have told their players what to expect.
"I think you've got to talk about it," said Gentry. "We've never been there before. Those teams that have know how to act so we're telling our kids what is out in front of them.
"We need to win a big ball game on Friday, and the way the kids have prepared and have been working, we can tell they know what's on the line. It's been a long time since there's been this much excitement for a game we've played in."
Sonoraville and Adairsville (4-2, 2-1) both sit right behind Cartersville and Ringgold (both 3-0 in 5-AAA play) in the region standings so the winner of Friday's game will have the inside track on the No. 3 spot for the state playoffs. The Tigers have been to the playoffs each of the last two seasons so Gentry said he knows they will come to Sonoraville ready to play.
"We expect them to come here and play really hard," said Gentry. "We both basically know where we're at so this game could be an exclamation point on either team's schedule.
"This is one of those games where our program can really start to turn a corner. The kids are excited, and we know we're going to have a big crowd. We respect Adairsville so the kids have prepared well for this game."
Each team is coming off a bye week along with the rest of Region 5-AAA. Gentry said he couldn't have asked for a more productive off week from his team.
"Last week was a great week for us," said Gentry. "We practiced four times and got a lot of work in. We went back and worked on some things we didn't handle very well against Ringgold and really just got to work on a lot of things.
"It was a very successful week for us."
The Phoenix will rely heavily on their two biggest playmakers on the offensive side of the ball, quarterback Cody Long and running back Andrew Slaton, who were both held relatively in check two weeks ago in a 30-0 loss to Ringgold.
On the other side of the ball lies another storyline in this game as Sonoraville defensive coordinator Jim Kremer will send his unit out against his old team. Kremer left the Tigers to pursue other opportunities following last season as Adairsville head coach. In his time there, Kremer rebuilt Adairsville into a solid program by compiling a 27-16 record in four years at the helm, including playoff berths the last two seasons.
Gentry said there are several things his team must do in order to have success on Friday against Adairsville.
"One of the big things is we have to get started fast," said Gentry. "We need to make some plays early and get some momentum. We had a few penalties and mistakes that cost us some points against Ringgold so we can't do that again.
"And we have to play together and have continuity as a team."
Prediction:
This is as big a game as Gentry and the Phoenix have made it out to be as the winner will all but lock up a spot in the playoffs, which would be the first-ever trip to the postseason for Sonoraville.
Both teams have shown the ability to score points in bunches this season, while both defenses have shown some vulnerability.
Expect a high-scoring affair on Friday night with lots of big plays.
Score: Sonoraville wins, 34-33.