FOOTBALL: New Rockmart coach calls for championship, shutouts at spring game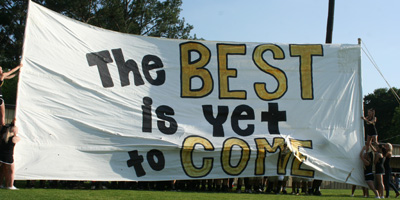 Yellow Jacket fans got a taste of what the fall might look like during the annual Black and Gold game in Rockmart, and there's one thing head coach Bin Turner is already promising to bring to eastern Polk County: championships.
Turner, who comes to the Jackets from McIntosh County Academy as an assistant coach, took the helm for the first time as Rockmart's head coach and already he feels confident in his team's athletic abilities and their future glory on the gridiron.
He said he's already seen marked improvement since starting spring practice.
"They've come so far," he said. "I walked into a situation that had a lot of great kids that needed guidance to work. They wanted to work, but they've never been forced to put the nose to the grindstone. They've jumped in and bought into it."
Turner, a defensive-minded coach, said that he's happy with what he saw last Friday night. He said he was happy more than happy with the effort his Black and Gold teams put up defensively, even though there's plenty more work to be done.
"Defense wins championships. As long as we're hard nosed on defense, the offense will take care of itself because we've got talented athletes. I know that if we can put a touchdown on the board, then we'll be fine. I'm planning on shutting out a lot of people this year."
He said he was excited about the performance of running backs like J.C. Lovelace, but also said the offense will still need tweaking over the summer while his team works on conditioning.
"It's an ongoing process, but our summer is something these kids will never have dreamed of going through," Turner said.
Turner has still not made a decision at quarterback, but said that he'll be looking over the film and making a decision over the summer.
Quarterback Dakota Wilson gave Turner plenty to think about with his performance, running for a touchdown on a quarterback sneak play during the first quarter, then connecting with Tarik Holmes for a 40-yard pass and run into the end zone.
Jackets quarterback Dawson Sanders also showed off his arm, tossing a pass to Dustin Adams for a touchdown.
Turner's only response to the decision: "it's wide open."
The new coach promises championships, not just in football but in a variety of sports. Turner said he needs the support of not just athletes and the school to buy in, but everyone.
"We're only as strong as the community support can be, and since I've been here the community support has been incredible," Turner said. "It's growing by the day. I couldn't be more pleased."
The Jackets will start their summer conditioning program once the school year has ended, Turner told parents after the game.