FOOTBALL: Model hangs on for 13-12 win against cross-town rival Armuchee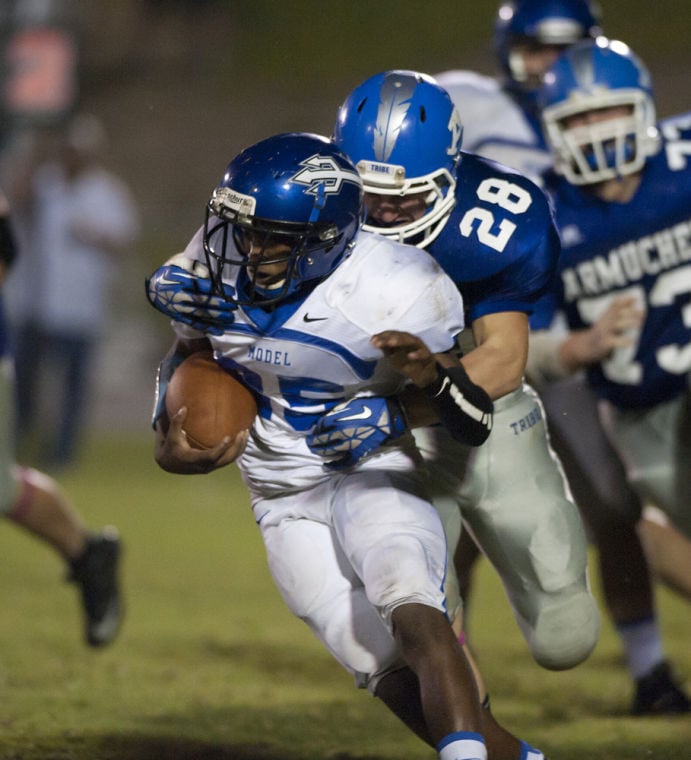 While it sputtered and stalled on a few occasions, the Model Blue Devils' passing game picked up at the perfect time.
Behind 12-7 in the fourth quarter, Model used a string of air strikes from quarterback Cameron O'Neal and a determined 21-yard touchdown run from Chris Dublin to claim the lead with 6:22 left in the game.
Armuchee tried to breakthrough the Blue Devils' defense but were turned back twice, the final play being an interception by Dublin.
O'Neal went 16-of-24 for 195 yards, including 68 of the eight-play, 91-yard final scoring drive.
"We haven't been in the throwing game up to this point," Model head coach Gordon Powers said. "They loaded up the box, and we have quick receivers. It really wasn't our game plan going in, but we got hot."
Dublin led all rushers with 63 yards on 11 carries, while Indians quarterback Colton Stamey had 48 yards on 17 carries. Armuchee senior Brandon New had touchdown runs of 1 and 3 yards with 24 yards total.
"You can't take anything away from Model. Both teams hung in there," Armuchee head coach Preston Cash said. "We had a couple of penalties that killed a couple of drives for us.
"We'll learn from it. You've got to do the little things."
Model (4-1, 2-0 in Region 7-AA) held a 7-6 lead going into the second half but three turnovers in the third quarter — two on the first play of the first two drives — shook the Blue Devils.
Armuchee (1-4, 1-1) responded quickly and turned an O'Neal fumble recovered by Grayson Lanham into six points thanks to a short field and a three-yard touchdown by New.
The two-point conversion was incomplete but the score added to the Indians' wave of momentum that began at the end of the first half when Jakob Phillips picked off O'Neal two yards from the end zone.
Two more Model fumbles were recovered by Armuchee in the third quarter but neither led to a score. Caleb Farmer missed a 34-yard field goal to end one Indian possession while Stamey kicked away the ball on fourth-and-15 to end another.
"I'm proud of our defense for not letting it get any further out of hand," Powers said. "They stayed strong after our turnovers and could have easily given up more points than they did. We went up against a good football team."
Model took over by scoring three minutes later to set the final score.
"That's just perseverance," Powers said. "We were lucky that there was enough time left on the clock to recover."
O'Neal threw for 88 yards in the first half but had three long passes either overthrown or miss their target, two of which saw receivers wide open with space.
James Brown pushed his way in from two yards out with 7:17 left in the first half to put Model on top 7-0.
Both teams return to action in two weeks on Oct. 11 as Model hosts Murray County and Armuchee travels to Chattooga.